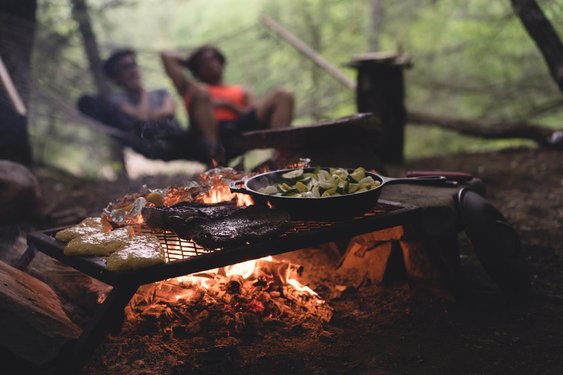 Gay camping is a blast!
If you've never been gay camping, you're really missing out. That's because camping offers a unique opportunity to bond with your friends while becoming one with nature!
As a couple, I've going camping with my man for years. In fact, we make a point of doing it each season. It's always a lot of fun. We hang out around the campfire, tell stories with friends and hike into the woods!
Gay Camping – For Real?
What's interesting is how many people think gay people don't like to camp. That's likely the result of long held stereotypes, coupled with silly assumptions about gay men.
Related: Gay Bears: 5 Stereotypes That Need to Stop
Here's the thing – camping is a big deal within gaydom – like huge! This is particularly the case for same sex couples and gay men who identify as bears.
While it's true that traditional camping and "gay camping" differ because of the glamping factor, the core essentials are the same. It's about being outdoors and enjoying the magic of nature.
What follows are 10 reasons you should go on a gay camping trip. We've included suggestions for places to stay along the way. At the end, we've tossed in a poll – plus some gay camping resources.
Check this out!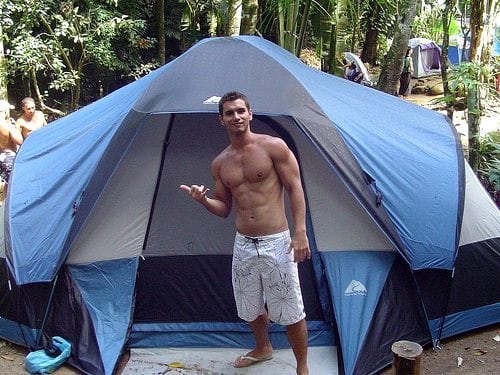 1. You could meet someone new
Probably one of the biggest reasons you should go on a gay camping trip – at least once – is to meet someone new. The truth is, lots of single men head to RV parks with their friends just to chill.
When you think about it, nature is the best place to meet a guy. That's because when he's in the woods, he's far away from his familiar environment. Free of distractions, you'll get an eagle eye view of his true essence.
2. Leave body image issues at home
Can we be candid? When a group of gay men get together in most settings, it can activate personal body image issues. That may suck but it's true.
But when you go gay camping, it's really not that big of a deal. That's because the guys you'll meet are from all different age groups and body sizes.
We're talking bears and furry otters, wolves and daddies!
Even for guys with serious body image issues, gay camping has a way of making those inner demons go away.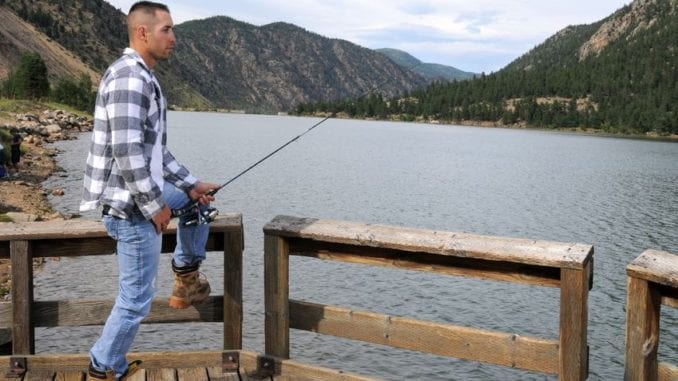 3. Up your man skills
We live in a world that's reliant upon technology. If we're not texting on our smart-phones, we're watching some mindless show on our pads.
But when you go camping, you get the chance to put all of that aside and use the primal skills that nature gave you! Be honest guys – when's the last time you made a box fire? How about cooking over an open flame? Doesn't that sound fun?
4. Great for gay couples
Who among us doesn't like to travel? Let's face it, gay vacations can be a lot of fun. But if you are in a relationship, the choices can sometimes be limited.
That's why camping with your man needs to be an option. Think about it – you can snuggle up with him in a sleeping bag made for two and make out under the stars!
And we're here to tell you that camping is just super intimate. It forces couples out of their norm and creates a dynamic where closeness is empowered. Seriously, it's a fantastic form of couples therapy.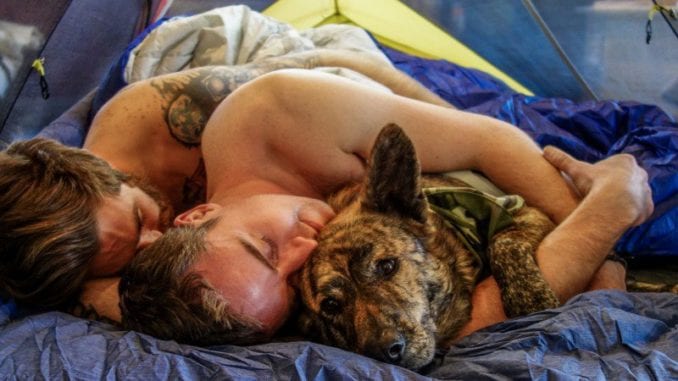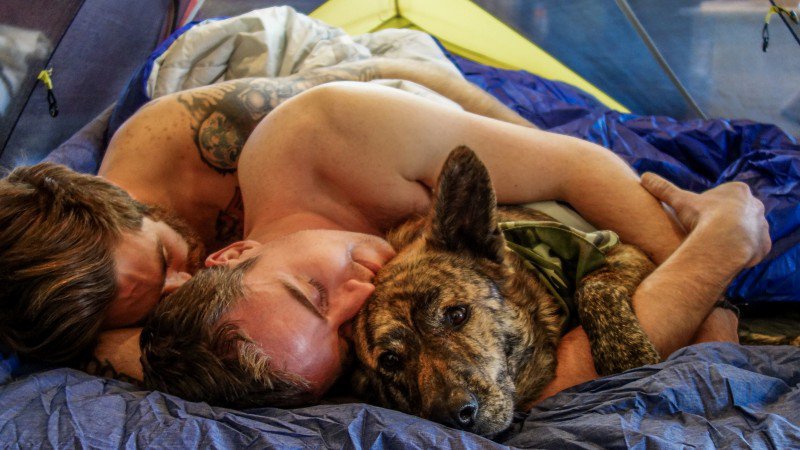 5. Outdoor closeness 
You knew we were going to bring this up. If you've never experienced sexy time in the woods, you really need to try it. That's because when you're outside, you'll become less inhibited.
There's just something powerful about the woods that awakens your libido. Maybe it's the fresh air? Perhaps it's the manscent? Or it could be all of the fresh meat? Who knows.
One thing is for sure – sexy time in the woods is hot.
6. Quality time with friends
Our first time on a gay camping trip took us to Ohio's Freedom Valley Campgrounds. A group of us had planned the trip a year in advance. Let me tell you, it was a blast!
The best part was our ability to spend quality time with friends and not be interrupted by the outside world. This offered a real opportunity catch up on life, free of time restraints.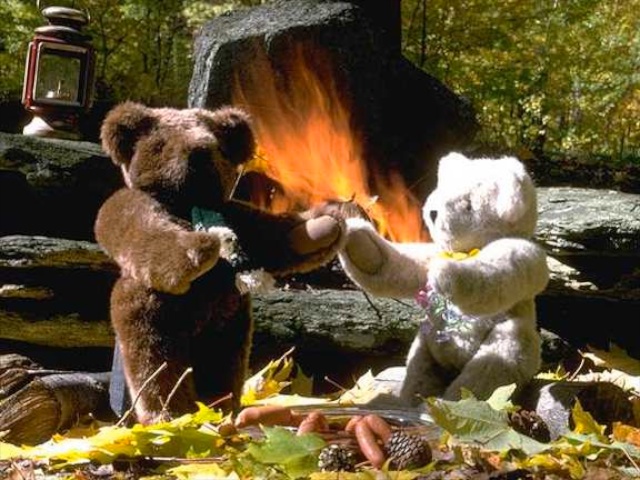 7. Great for bear runs
Have you ever heard of a bear run? No, we're not talking about the stock market here. Instead, bear runs are events where a group of "gay bears" get together and hang out.
While many of these runs take place around widely advertised events, some are specifically campground related. For example, there are annual runs at the Dune's Resort in Michigan target just for bear types!
8. Not as "rough" as you think
When you hear the word camping, it probably conjures up mental imagery of manly things, like catching your meals or pitching a tent. While some of that is true, gay camping offers different options!
If you want to go the traditional route, you can head someplace like the Hillside Campgrounds in Pennsylvania. They've been around for over 30 years and specifically cater to gay men.
But if you want more of a resort type feel, you can scoot over to Venus Florida to Camp Mars! They've got rental cabins and trailers galore that are great for singles and couples.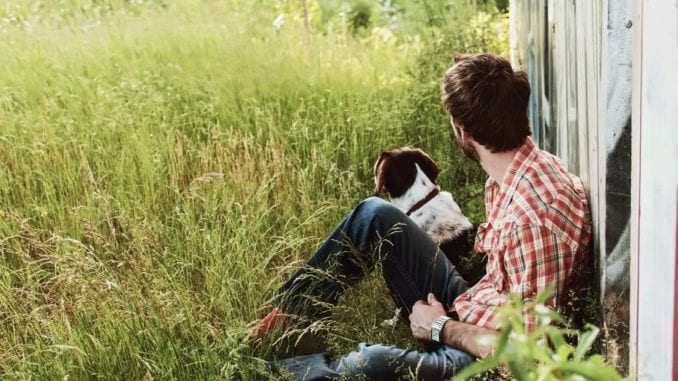 9. Pet Friendly
One of the reasons many vacations never happen is because of pets. Specifically, we're talking about those adorable fur babies that we hate to leave at home. Can you relate?
Guess what – when you go on a gay camping trip, there's a 99% chance that it's totally cool to bring your dog or cat. Most campgrounds make a real effort to accommodate pets.
A great example of that is the Gay Russian River Campgrounds in Guerneville, CA. They've got traditional areas to pitch a tent or adorable cabins for rent. But what's really important here is they are pet friendly!
10. It's a blast!
The final reason you should go on a gay camping trip is for the fun factor. Seriously, it's a super good time! Not only can you chill with your buds, you'll meet new people along the way!
Many gay campgrounds are located next to natural lakes and rivers. Others are close to hiking paths that meander through hills and valleys.
It's a great way to learn more about yourself and others, all in the backdrop of the great outdoors.
Gay Camping Myths
Here are 10 common myths associated with gay men and camping. Do these sound familiar?
Gay men don't like being outdoors
Camping is boring
There's no such thing as a gay camping resort
Only "butch" guys go camping
You have to have an RV to go camping
Gay camping resorts only exist in the Midwest
Only gay bears go camping
Otters and wolves don't camp
Outdoorsy Men Poll
Just for chips and giggles, we've published a gay camping poll below on outdoorsy men. Be sure to chime in. Remember, you can only vote once so make your choice wisely!
Where to go Gay Camping
There are many places to go if you want to try your hand at camping. A great resource is the Gay Camping USA Website. They maintain a fairly large database of locations that LGBT folks can go to get their camping fun on.
You can also visit the Bearguide.net website. Lots of useful information about special events that take place outdoors with a camping theme.
Wrapping Things Up
We hope you found some of what we shared here useful. Hopefully, some of the points discussed in this article will inspire you to try something new.
Who knows, you might just have the best time of your life.