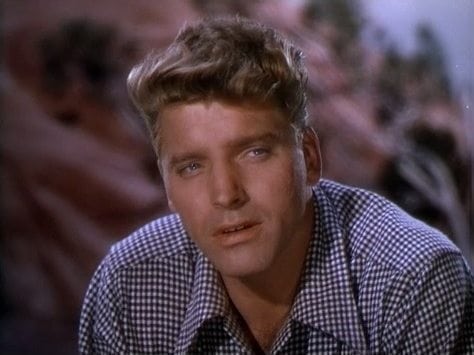 Burt Lancaster Gay Rumors
Back in his prime, Burt Lancaster was a real looker! The Hollywood actor best known for his work in From Here to Eternity as well as a host of Westerns is one of those stars who is considered legendary. With crystal blue eyes and a well-built bod, this Oscar winning celebrity at one time was a much sought after heartthrob by women.
But was Burt Lancaster secretly gay – or at the very least, bi?
According to several stories circulating around the Internet and in tabloid magazines, the answer is apparently – maybe. Obviously, one has to take any amount of gay related gossip with a grain of salt, particularly after an actor has died (Burt passed away in 1994). But if you like reading about sexy celebs of yesteryear, this particular Scorpio male may peak your interest.
Here are just 10 tidbits of gossip from the January 25, 2016 National Examiner and an August, 20, 2014 National Enquirer that seem to suggest Burt may have secretly been living a double life. We've cobbled together highlights from both pieces and presented them here.
And it is worth nothing that other outlets have suggested that Burt Lancaster not only was gay but also a sex addict – consuming people up as a way of bolstering his self-esteem. There was apparently an incident that happened in 1960 where the authorities raided a gay orgy – with Burt Lancaster in attendance.
In 1989, he suffered a stroke and spent the duration of his life in a wheel chair, struggling to communicate.
Burt Lancaster Gay Pop File
Born: November 2, 1913 in New York City
Died: October 20, 1994.
Eye Color: Deep blue
Height: 6'2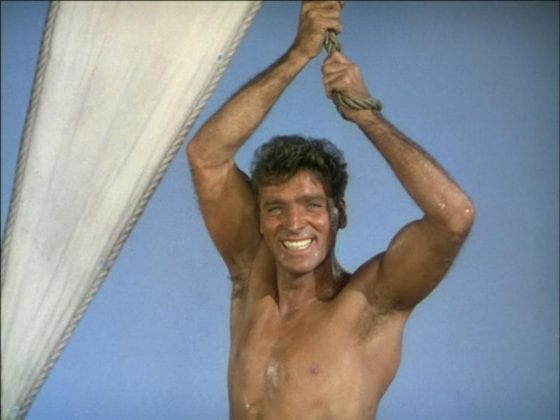 1. There was "compelling evidence" that Burt was bisexual because he had a penchant for hiring personal secretaries that were gay.
2. He was one of the first male actors to come out and support Rock Hudson when the news broke that Hudson had contract HIV disease – the virus that causes AIDS.
3. Lancaster played the part of a reclusive professor who comes to terms with his latent homosexuality in a 1974 film called The Conversation Piece.
4. He had an acrobatic body because he constantly worked out
5. He frequently visited Rock Hudson's home during rumored all male pool parties
6. Hollywood insiders allegedly long knew of Burt's secret gay life but kept a lid on it
7. Lancaster reportedly teased gay guests at Hudson's pool parties with his tight bod.
8. He was reported to hire gay men for administrative work because: "They are the best".
9. Extremely supportive of HIV/AIDS awareness campaigns back when it wasn't popular.
10. Was on J. Edger Hoover's FBI list of actors to watch for suspected homosexual activity.