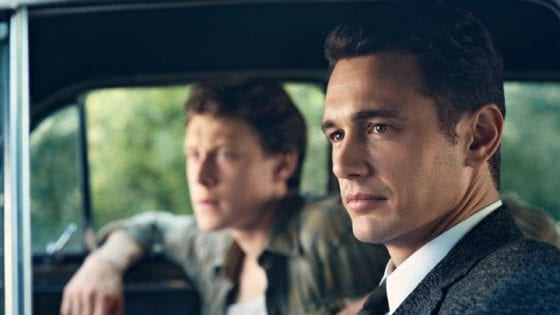 11.22.63 Review
Recently, we decided to check out the Hulu mini-series, 11.22.63 starring actor James Franco.   If you are anything like us, you are always on the lookout for something new to binge watch and that holds your attention. And because we're both huge JFK fans, we figured this one was a must see.
We have to say that from start to finish, each of the one-hour installments of this eight-episode program was riveting. Based on the book by Stephen King and produced in part by science fiction guru J.J. Abrams (think Star Trek and Star Wars), the show literally transports viewers back in time to the 1960's.
We won't give away the candy store in this review. Instead, we'll provide you with a broad overview so that you can gain the essence of the series and decide for yourself if it is worth checking out. As you can probably already tell, we think it is!
Main Cast
James Franco as Jake Epping
Sarah Gadon as Sadie Dunhill
Chris Cooper as Al Templeton
George Mackay as Bill Turcotte
Daniel Webber as Lee Harvey Oswald
Cherry Jones as Marguerite Oswald
Main Story line
11.22.63 is a time-travel story that is quintessential Stephen King. Set in Maine (where else!) Jake Epping (Franco) is a divorced school teacher that happens to be a long time buddy of a man named Al Templeton (Cooper) who owns a traditional dinner.
One afternoon while visiting Al at the greasy spoon, Al encourages Jake to take a look in a storage closet. As Jake stumbles around, he quickly finds out that the "closet" is actually a time portal, transporting visitors back to 1960! What's more, Jake is able to come back to present day using the same opening.
Al explains to Jake that he has been using the portal to try and prevent the assassination of President John F. Kennedy on November 22. 1963 in Dallas, Texas. The reason? Al believes that stopping President's Kennedy's murder will spare the world of much heartache in the years that follow.
Because Al is old and sick with cancer, he is not able to continue his time-travel quest and asks Jake to continue the mission for him. After expressing major reservations, Jake finally agrees to do it.
Part of the back and forth narrative between Al and Jake involves serious warnings about the consequences of altering the past and the strong possibility of the "butterfly effect"; a term used to describe unintended consequences for changing history.
And so Jakes goes through the portal and carves out a life that spans from 1960 through 1963 (even though he's only gone for 2 minutes in present time). As part of his journey, he meets a guy named Bill (Mackay) who he becomes faux brothers with. He also meets Sadie (Gadon) who he develops a relationship with.  Jake also meets Lee Harvey Oswald (Webber) and his wife, Marguerite (Jones).
What we liked
First, the plot itself was super compelling. How could it not be when Stephen King is involved? While many people have dreamed about what it might have been like to somehow prevent the JFK assassination, 11.22.63 turns that dream into a fictional reality.
We have to say we liked all of the characters, particularly Franco's work as Jake Ebbing and Dunhill's work as Sarah. We also thought that Daniel Webber made for super cute Lee Harvey Oswald!
As for the plot itself, we found that each episode piqued the imagination and caused us to think critically about world events that ensued following that tragic day in Dallas, back in 1963. In fact, this series caused us to watch a somewhat related program produced by National Geographic called JFK: The Final Hours.
The other thing we liked about this program was how it offers a meaningful bridge to people who were not alive during the time of the assassination to an important part of American history.
And so for millennials and Gen Xers, the entertainment factor of the series acts as a conduit to a real life event that changed the world.
Perhaps this is why so many people who have already seen this series have discovered a new found interest in the Kennedy years? We know this was certainly true for us.
What we didn't like
Honestly, there wasn't a lot that we didn't like about 11.22.63. If we had to pick something, it would be the final episode. Without saying too much, we just felt that it was somewhat anti-climactic.
We also thought that Dave Franco, James Franco's brother, could also have been cast in this series to make the brotherhood scenes a bit more believable.
Final thoughts
We really liked 11.22.63. This was an important bit of programming for Hulu, who is currently trying to battle it out with Netflix and Amazon on the original programming front. As an aside, it might be helpful for viewers of this show who are unfamiliar with the events of the Kennedy assassination to do a quick read of Wikipedia's page on the subject.
What can we say – context helps.
Rating: 3.5/4.0 Stars
Reference: IMDb 11.22.63