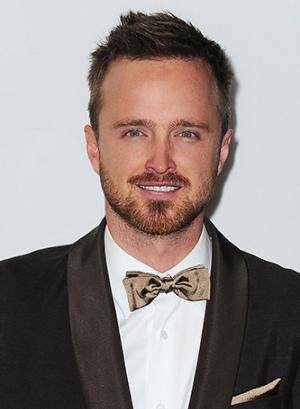 Aaron Paul Facts
Most actors go their entire careers without starring in a TV show OR a movie as esteemed as "Breaking Bad." Though the show started with little fanfare, it quickly ballooned into a juggernaut – it's the type of show that people STILL cite as one of the best to ever grace television screens.
Aaron Paul is still young, but he definitely has his entire career left ahead of him. If you think you know everything there is about Jesse Pinkman, think again – there are seven key facts in particular that may just surprise you!
Gay Pop File: Aaron Paul
Birthday: August 27, 1979, Emmett, Idaho
Height: 5'7
Eye Color: Sky Blue
Sign: Virgo
1. He's the Best Game Show Contestant Ever
Many people don't realize that Aaron Paul's big break on television did NOT come in the form of "Breaking Bad" – instead, years earlier, he first leapt into our living rooms for the first time as a contestant on the classic game show "The Price is Right." If you haven't seen this particular clip, do yourself a favor and look it up – it's worth it. Go on, we'll wait.
Look, we're not saying that Aaron Paul is high out of his mind while on "The Price is Right" (no really, we're not – legally, we're probably not allowed to). We're just saying that if you HAD to place a bet on his status at the time, it would be completely understandable if you put all your money on "high out of his mind."
2. He's Incredibly LGBT Friendly
To our knowledge, Aaron Paul is not actually gay – he's married to a beautiful lady and seems to be enjoying life to the fullest. However, he IS followed by a HUGE number of gay people on Twitter, Instagram and more. The best part of all is that he seems to be loving every minute of it. He's embraced his status as a LGBT sex symbol with open arms.
Regarding his sexual status, if anything he seems to be omnisexual – he loves everything and everyone, provided that you're not a jerk. It doesn't get much better than that.
3. He's So Good He Saved Jesse Pinkman's Life
Many people don't realize that Jesse Pinkman was never intended to survive the first season of "Breaking Bad." The show's creators always intended to kill him off in the finale, further cementing protagonist Walter White on his path to eventual destruction.
The problem is that Aaron Paul was just SO GOOD on the show that the creators didn't have the heart to actually pull the trigger, so to speak. Good news for Aaron and better news for us!
4. He's in "Mission: Impossible III"
"Mission: Impossible III" is a movie that had a lot riding on it. The "M:I" franchise was in dire straights and Tom Cruise's career back in 2006 was in even worse shape. "M:I III" came along and was a huge hit, but many people don't realize that Aaron Paul is actually a member of that insane cast!
He's got a small but important role as "Tom Cruise's wife's younger, drunker brother," basically.
5. He Spent the 1990s Appearing on Every Cult Show Ever
If you had to make a list of all the shows you loved during the 1990s and early 2000s, Aaron Paul probably popped up on the lion's share of them. "Beverly Hills, 90210"? Check. "Melrose Place"? Check. "3rd Rock from the Sun?" Check "The X-Files"? That's a big ol' check.
He basically spent about five years guaranteeing that he will always be on TV somewhere in the world at any given moment.
6. He was Born in a Bathroom
Aaron Paul's early life is just as interesting as the career he would one day lead – if not more so! You see, Aaron was born in Idaho, land of potatoes and… well, potatoes. He's the youngest of four children and was actually born premature – a full month premature, to be exact.
Little Aaron coming into the world was such an unexpected event at this moment that his parents couldn't actually make it to the hospital, so they had to deliver him i the bathroom of the house they were living in!
7. He Came Out to LA With a Dream… and Little Else
You always hear the story of the "starving actor" who came out to Hollywood with a pocket filled with hope and a noticeable absence of just about anything else. Aaron Paul's story puts just about every other one you've ever heard to shame!
After graduating from high school in Idaho in 1998, Aaron's fate was sealed – come hell or high water, he was going to be an actor. He didn't let the fact that he had almost no money stop him – he drove out to LA with his 1982 Toyota Carolla (not a particularly strong year for the Toyota Carolla, mind you), his mom and the $6,000 in savings they had between them. $6,000 doesn't exactly go a long way in Los Angeles, but he didn't let that stop him. The rest, as they say, is very much history.