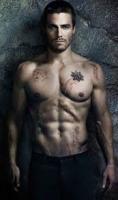 Colton Haynes and Jeff Leatham tie the knot
It's totally official! Actor Colton Haynes has married Jeff Leatham. The couple tied the knot at a Palm Springs hotel in a fabulous, star-studded ceremony on Friday, October 27. They due exchanged vows in front of 120 people at the evening wedding. Friend Kris Jenner officiated.
"It's just amazing when you find someone who kind of teaches you to love yourself more," Colton tells PEOPLE about his feelings after marrying the Four Seasons Hotel floral designer.
He adds, "The really great thing about being with Jeff is that since we got together my relationships with my friends have gotten better, my family relationships have gotten better. When you learn to really love someone, it's completely life-changing. Now we have this beautiful life together and this epic journey ahead."
Per the report in People:
"Both Colton and Jeff wore matching white tuxedo jackets and black bow ties at the nuptials. The guests, which included A-list stars like Sofia Vergara and husband Joe Manganiello, Melanie Griffith, Jesse Tyler Ferguson, Lisa Rinna, Chelsea Clinton, Dylan O'Brien, Emily Rickards, Billie Lourd and Cheyenne Jackson, adhered to a black-and-white dress code."
Word is they enjoyed a cocktail hour just prior to the ceremony and a full-on dance party afterward. "If you can imagine Cher meets a Guns N' Roses video and that's the theme of the wedding," Jeff explained in People.
Apparently, he planned and designed much of the wedding himself. "But more than the flowers and decorations, it's really about everyone coming together and everyone you love being with in the same room. That was the most important thing for us."
Sofia Vergara has taken to Instagram to share pictures and videos from the star-studded wedding. "Congrats @coltonlhaynes & @jeffleatham ! We are ready to partyyyyyuy!" she wrote over a video showing the table decoration.
CONGRATZ!
h/t: People