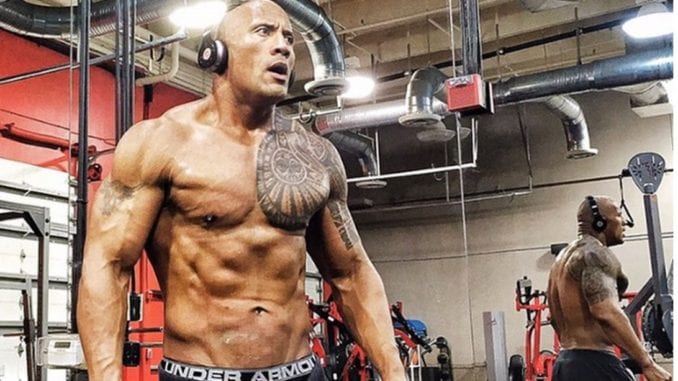 What's Athleticon?
Would you go to a fitness and wellness version of Comic-Con? Well, now you have the option thanks to Dwayne Johnson.
Dwayne "The Rock" Johnson and business partner Dany Garcia have apparently been working on a "Athleticon" for some time now. The two envisioned created a major convention and event where people would gather to celebrate community, fitness, and well-being in one place. This event will include competitions, panels, live performances during the Athleticon music Festival, exclusive premieres, sport tech showings, and, of course, many seminars for fitness, nutrition, and healthy living. For those classes and seminars, many experts like Yoga Girl Rachel Brathen will be offering their knowledge and assistance.
When they announced it last fall, Dany Garcia shared that the idea was to spread better living with the general public.
"The idea behind #ATHLETICON was to bring our passion for athletics, wellness and entertainment together into one epic and energizing event for EVERYONE to enjoy," she shared on social media at the time. "It's taken us years of planning to create a truly unique 360 experience that will satisfy your soul, inspire the best version of yourself AND be truly entertaining. Join us in my bio as we ignite, motivate and inspire – together."
Meanwhile, Johnson has said about the event that it is a natural extension of their interests.
"We've always been committed to fitness and health—it's what sustains us mentally and physically," Johnson said in a statement. "Creating Athleticon is a natural extension of everything we do for our global audience who are connected to the people and brands that inspire them."
But that's not all, the two-day event will also include a number of pro and amateur competitions such as the NPC Worldwide International Championship. According to Men's Health, this flagship event will be the first-ever international championship where athletes have the chance of getting gold, silver, and bronze medals on U.S. soil (besides the Olympics, of course).
Interested in joining the event? It's not set to happen until the last quarter of the year, so there's plenty of time to prepare. The event will happen in Atlanta, Georgia between October 10 and 11 of this year. If you're excited to join, and have the money to do so this year into the year, you can buy early access tickets here.
Source: Men's Health