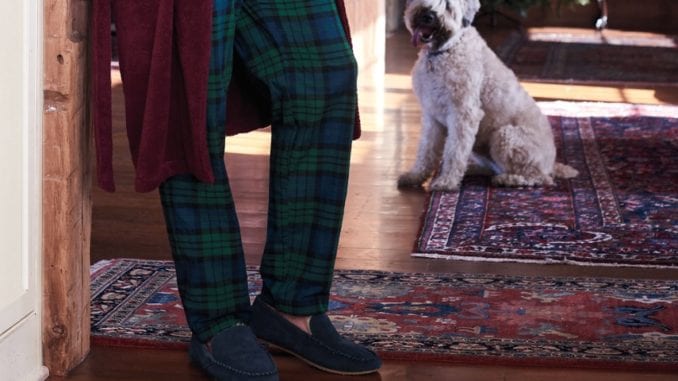 House Shoes – What's Your Favorite?
Although most outerwear shoes and sneakers are designed for comfort these days, you still gotta wear them for most of your day. You've slogged through puddles in them, gone up and down stairs at work in them, and that annoying girl in the Starbucks line won't stop scuffing up your heel.
Your feet take a lot of punishment day in and day out. So, do yourself a favor and get a quality pair of house shoes. You can be well on your way to relaxation the moment you step through the door with the right pair. You might be thinking – Can a set of house shoes really put me on the path to Zen-like coziness? The answer, my friends, is yes.
Going barefoot in the comfort of your own home might seem like the natural thing to do, but not when you consider the number of bacteria on the floor.
An in-home study conducted by the Hygiene Council found that there were 830 bacteria/square inch on the kitchen floor and 764 bacteria/square inch on the bathroom floor near the toilet bowl. To give you additional perspective, that's more bacteria per square inch than the garbage can.
Before you conduct an emergency mop-up of your whole house, take a look at these high-quality house shoes and slippers.
1 Glerups
The Danish sure know a thing or two about in-home footwear. Glerups is a family-owned business that makes shoes, boots and slippers with 100% natural, pure wool. If you're looking for warmth and comfort, then this line of footwear is right up your alley.
You can choose a traditional house shoe style with a sole that's made of either natural rubber or semi-vegetable tanned calfskin.  Then, there are open-heel style shoes, but technically these shoes have a half-heel. You can also choose a slip-on, mid-top boot.
The colors are amazing though and range from charcoal grey and denim to forest green and orange. These house shoes aren't cheap though. They're partly handmade and crafted with high-quality natural materials. So, the price can range between $75-100 dollars.
Pros: Super warm and crafted with natural materials.
Cons: High price point and sheds wool.
2 The King Twin
You're off to a good start with the word "king" in your name. These house slippers by Clarks are durable, comfortable and affordable. They come in navy, grey, and dark blue with white and burgundy accent stripes.
The King Twins have a rubber sole that's not too heavy and has a bit of flex to it. There are elastic gussets on top so that your foot can easily slide in and out. The top of the shoe and insole are made of the same textile material.
The King Twin is soft, both inside and out. This is the perfect everyday wear slipper, but it might not hold up to occasional walks outside to the garbage bin. If you're in the US, then you might not find these shoes in Clarks' stores, but you can find them online. At a price of under $30 dollars, the King Twin from Clarks takes the guesswork out of buying home footwear.
Pros: Lightweight and affordable
Cons: Hard to find in the US and no removable sole
3 Tamarac Cody Sheepskin Slipper
Slippers International has a wonderful house shoe with memory foam insole, suede exterior, and dyed lamb's wool lining. Truthfully, you had me a memory foam. The Tamarac house shoe is durable, yet soft. Although it's called a slipper, the Tamarac is really an indoor/outdoor shoe. It has a thick, rubber sole that has enough grip to keep traction even on a slippery driveway as you take in early morning deliveries.
This house shoe molds to your feet and truly becomes a cherished item in your footwear collection. They have a loop at the top of the heel. So, you can hang them or easily slide them on your feet.
The top of the shoe is 100% suede. You might be tempted to cross your legs and curl up on the couch, but don't forget that you wore these room raiders on your last trip to the garage. You can find the Tamarac from Slippers International on Amazon for just under $50 dollars.
Pros: Memory foam footbed and bargain price
Cons: Sizing can be a bit tricky
4 Sheepskin Moose Slippers by Minnetonka
Nothing completes your loungewear like a pair of moccasins. These slippers by Minnetonka are lined with pillow-soft sheepskin and covered with genuine moose leather. You can choose between three colors: black, camel, and chocolate. The bottom of the slipper has a rubber sole, but it's quite thin and has minimal traction.
This is 100% an indoor shoe. It would be a shame to tarnish it by accidently crashing through a puddle in your driveway. There's a rawhide lace to keep the moose slippers tight on your feet, but it really isn't necessary if you ick the size accordingly.
You want to choose a size that is a bit smaller than your outerwear sneakers. This Minnetonka moccasin has a refined look and you can expect the price point to match the quality craftsmanship and premium materials. The sheepskin moose slippers costs $89.95 and can be easily found and ordered on the Minnetonka website.
Pros: classic moccasin design and high-quality manufacturing
Cons: Not for outdoor wear and a bit pricy
5 Addidas Adilette Cloudfoam Plus Stripes Slides
Sometimes, your house shoes need to work like an old, faithful pickup truck. The Adilette Cloudfoam Plus slides from Addidas are easy to clean, easy to wear and easy on your wallet. They have a sporty look that's perfect for athletes, iron addicts and gym rats. You can store them in a bag, tuck them in a corner or leave them lying just about anywhere without worrying too much that you'll tarnish or damage them. There's a simple, contoured footbed and a single, crossover slide top that make this shoe take on a classic, no-fuss appearance.
You've got the Addidas stripes that go across the top for brand recognition, but otherwise this is just a basic slide-style leisure shoe. The Adilette slipper comes in black, blue and grey with contrasting white accents. These slides cost about $35 dollars, but you can usually find them on sale at a sporting goods store near you.
Pros: No fuss maintenance and sporty style
Cons: Not very refined and the footbed will wear down over time.