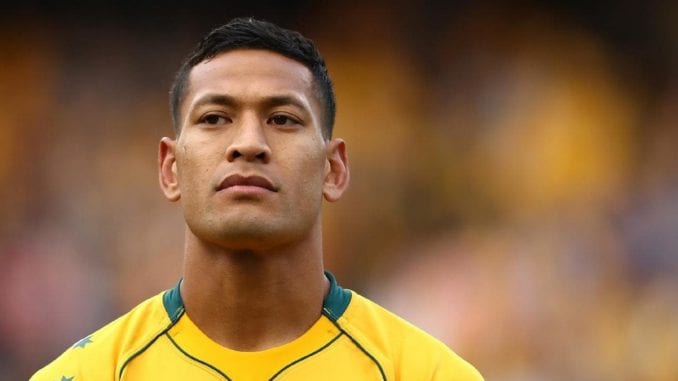 The automaker seems to have had enough of his rhetoric
Land Rover, the British multinational car manufacturer Jaguar Land Rover, has yanked back a car it loaned the player as part of an AU$850,000 (US$638,000) annual deal with Rugby Australia, according to the New Zealand Herald.
The company apparently confiscated the car because they did not agree with Folau's anti-gay comments.
Folau has long had controversial opinions about the LGBTI community. Including last year when he declared he was voting 'no' to same-sex marriage in a national vote on the issue.
🙏☝️ #allglorytoGod pic.twitter.com/6XwkEV6GrH

— Israel Folau (@IzzyFolau) April 8, 2018
Folau's ugly anti-LGBT remarks – doubling down
But the player got himself into serious trouble in April when he remarked in an Instagram post that 'HELL' was 'God's Plan' for gay people. Folau was not disciplined for his comments from Rugby Australia or New South Wales Rugby where he plays for the Waratahs.
"I stand firm in what I believe in and that's something personal with who I am," Folau said in April.
"That's something that comes truly from the bottom of my heart. That doesn't interfere with anything to do with my rugby and the guys around me."
But even after complaints poured in from all over the world and he came under international scrutiny, Folau still wouldn't back down.
On social media, he likened himself to a "persecuted prophet" and wrote a long op-ed about his Christian identity and belief in Jesus Christ.
Then only a week ago, Folau was up to his anti-gay rhetoric again when he posted a lengthy video on Twitter that featured a sermon from US pastor David Wilkerson.
In the video, Wilkerson implores people to 'Get right with God'. While images in the video feature gay parties and rainbow lights shone onto the White House.
Folau's Land Rover may be gone, but he's apparently still driving around in his Lamborghini.
h/t: Gay Star News