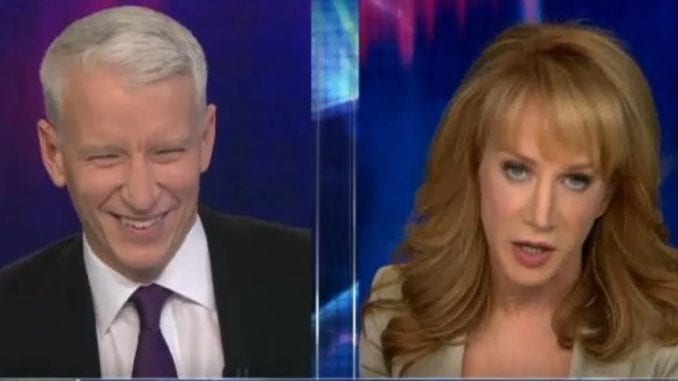 Friendship is said to be over
After a 20-year friendship, it definitely stung Kathy Griffin when her friend, Anderson Cooper, seemed to go out of his way to slam her in very harsh language for that picture she posed for, in which she appears to be holding Trump's severed head.
In a long, deep dip into Kathy Griffin's mind published in The Cut, the upset comic tells Yashar Ali she is no longer in an apologetic mood regarding that incident wherein she posed for a picture holding what appeared to be Donald Trump's decapitated head:
"Why are people still expecting me to apologize and grovel to a man that tweets like this? I'm a comedian; he's our f**king president … President Trump just pardoned Joe Arpaio, who was essentially running a concentration camp in the Arizona desert.

He said there are some good Nazis, and he's kicking out young adults who were brought here as kids by their parents, and I'm the one who has to continue to apologize?"
In a piece appearing in Us online, the following is shared:
"Griffin, 56, took issue with Cooper's July 26 Watch What Happens Live With Andy Cohen appearance, during which he discussed the photos despite not yet having reached out to Griffin personally. "The fact that Cooper was telling people publicly they were friends, while not checking in with her, hurt Griffin deeply," writer Yashar Ali writes in the story, published on Sunday, August 27. "When he finally reached out to her in a series of text messages, she told him their friendship was over."
Other information has come out …
She apparently had to undergo a ridiculous Secret Service investigation. Honestly, who could view her as a threat when one considers some of the whack jobs at his rallies?
After being summarily fired from her CNN New Year's Eve job, Griffin also had to put up with close pal Anderson Cooper tweeting his displeasure of her. As stated in US Magazine, Cooper said: "For the record, I am appalled by the photo shoot Kathy Griffin took part in," he tweeted at the time. "It is clearly disgusting and completely inappropriate."
It's important to point out that Cooper recently said he was still friends with Kathy, however, that no longer appears to be the case:
In the following days, Griffin says four of Cooper's CNN colleagues reached out repeatedly to Griffin to check on her and offer private support per online reporting.
MV sources have heard that Cooper was shocked and upset by the photo, and while he was not ready to talk to her personally about it, he still considered her to be a friend, and was publicly supportive when asked about the controversy.