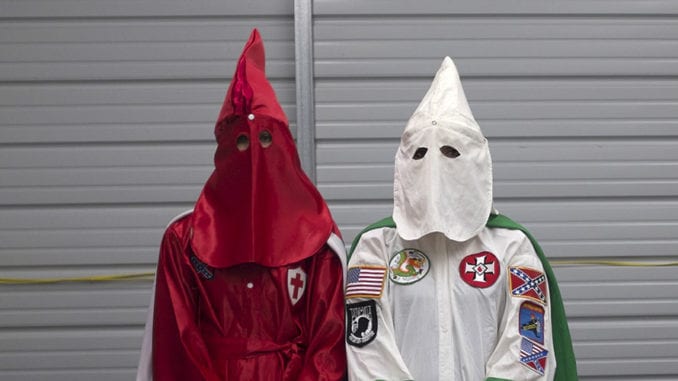 The KKK is actively promoting gay bashing and murder
In the wake of the bloody Charlottesville, VA protests, fliers are now being left on the driveways of Louisiana homes, signed "Loyal White Knights of the KKK" and bearing messaging like: "Stop AIDS: Support Gay Bashing."
"Homosexual men and their sexual acts are disgusting and inhuman."
"Our race is our nation."
The flyers include a website address and telephone number, where interested parties can sign on to join the effort to kill gay people.
More: Gay couple shamed at DC restaurant 
When you call the number, you get an automated message that says, "Save our land, join the Klan, white power" before redirecting you to a KKK chapter in North Carolina.
One Louisiana resident, Sonja Chaves, found one of the hate fliers outside her home.
"It's hurtful, it's scary," she says. "I have a little boy. We have neighbors. They have kids."
Other residents in her development have also found paper bags with either a rock or candy in them along with one of the fliers.
"I mean, I guess it's kind of repulsive, you know," says resident Patrick Sarver.
"I mean, I don't discriminate against any group and I don't feel like anyone around here should be discriminated against either."
"I'm extremely hurt by it," says one woman, who wished to remain anonymous. "As a member of the gay community… I think it shows the ignorance of society still."
Apparently, people have been finding these kinds of flyers all summer long. Some KKK organizations claim it's part of a massive recruiting effort.
The St. Tammany Parish Sheriff's Office is currently investigating.
According to various reports, the local FBI office claims it's monitoring the situation and keeping a look out for possible federal violations.
Gay Pop Buzz will report any new developments on this front.
h/t: Queerty