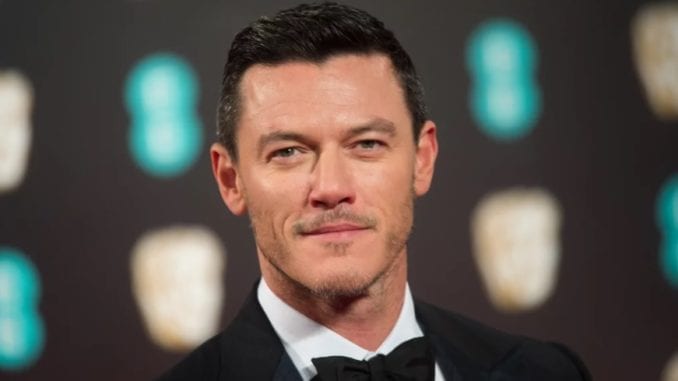 Luke Evans Facts
If you haven't noticed, we kind of like to talk about all sorts of different male celebrities. (Athletes, singers, dancers, and actors to name a few). While Luke Evans isn't an athlete and not known for his dancing skills, in around 20 years he has touched our hearts with his singing and acting on the stage and on our screens.
In that time, this lovable actor has worked in films ranging from the Fast and Furious and Clash of the Titans to Beauty and the Beast and The Hobbit. Plus, it's hard to deny that Evans is on an upturn in his career, so we can't help but want to talk about him.
If you're like us and want to know all about Luke Evans, here's 5 facts to get you started!
Pop File: Luke Evans
Birthday: April 15, 1979, Pontypool, Wales
Height: 6'0
Eye Color: Brown
Hair Color: Dark Brown
Zodiac Sign: Aries Man
1. He's Gay
While we often talk about straight celebrities, gossip about gay rumors, or just hope one day someone like Jesse Metcalfe will decide to have a little guy on guy action, this time we're happy to talk about a celebrity of our own.
That's right, it's been known since 2002 that Luke Evans is gay. Back then, Evans talked to Advocate about his sexuality. And while he had a moment where his publicist tried to force him back in the closet, even to the point of getting him a girlfriend, Evans has stayed open about his sexuality.
2. Off and On Relationship
As interesting as his random girlfriend was, so too is his on again/off again boyfriend.
Evans was dating model Jon Kortajarena back in 2014 for two years before the two broke up. But recently gossip sites like Daily Mail have pieced together the possibility that the two may be swinging back together again.
Luke Evans just celebrated his birthday with a trip to Budapest. And in his Instagram photo Evans captioned the words "'What an amazing bunch of people. Thank you for an amazing birthday. Just missing one special someone…you know who you are," and then he finished it off with a kiss emoji.
The detectives of the internet then got to work and found out that Kortajarena was actually in the city at the same time, but wasn't in Evans's photo. That said, the model did take the time to share a birthday message for his "ex," before he then deleted said message and all the photos showing he was in Budapest.
Evans also then shortened the message on his Instagram photo to just say, "What an amazing bunch of people."
3. He Likes His Privacy
That said, while it's fun to gossip and get the dirt on celeb info, we also have to respect that they're human beings and need some space.
While Luke Evans is wonderful for being open about his sexuality and being a role model for future gay actors, he's also honest in the fact that he'd like to keep some of his life private.
Just recently he told Jackal Magazine, "There's a dignity to keeping private."
"I try to keep my personal life and my private life separate…. Not for any reason other than there's a clue in the title – it's private.
"As an actor you have to keep some sort of enigma and mystery. There's a dignity to keeping private.
"I'm trying to keep a bit of dignity to my private life and to protect the people in my life."
4. He Grew Up a Jehovah's Witness
Who can deny that Luke Evans's life is going well in the past few years. But of course, all that success followed years of hard work and years of strife before it.
Evans grew up in Aberbargoed, Wales as a single child of Yvonne and David Evans. Adding to that, his parents raised him as a Jehovah's Witness. This included going out to spread the word of their religion to their neighbors.
As he told The Guardian, this was something he didn't enjoy:
"Imagine. You're knocking while they're watching He-Man on a Saturday morning. Who wants to be interrupted when they're watching He-Man? I don't blame my parents or their religion but I hated it. I absolutely hated it. There were streets I wouldn't walk down in case the bullies were there. I wouldn't play out in the evening with my friends. I'd go half an hour out of my way to avoid those streets. Then I'd have to stand on a bully's doorstep in a suit with my parents behind me on a Saturday morning. That's not what you want to do as a kid."
5. He's Musical
Ironically, Luke Evans playing a major role in the live action Beauty and the Beast wasn't the gay moment they were promoting so hard before the film came out. And apparently, Evan's time in the film wasn't his first time taking a swing at being in a musical. In fact, Evans is all about singing and the life of a stage actor.
Luke Evans grew up loving to sing. He took lessons and even had dreams of being like the Italian opera singer Luciano Pavarotti. Then, at the age of 16 Evans dropped out of school to pursue a life of singing and acting.
Evans eventually retook his life as a student, but this time with a focus on singing. At 17, he moved to Cardiff to study under singing coach Louise Ryan before he gained a scholarship to The London Studio Center.
Quickly after that, Evans became a star in the British West End. He played in musicals such as "Rent," "Avenue Q," and "Miss Saigon." He became so wrapped up in the theatre world that his first big break as a movie actor happened after he'd reached 30.
And from there, his career has taken off. He's played in well-known brands like the Hobbit series, The Girl on the Train, and now Beauty and the Beast. Good for him.