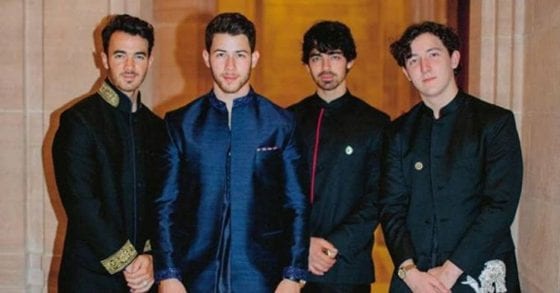 Nick Jonas Married
Well, it finally happened men. Nick Jonas (26) has tied the knot.
Some may have hoped against all hope that the third oldest Jonas brother would someday decide to give gay sex a try and be the lucky boy that got do it with him. But, it looks like those dreams have been thrown away now that the "Jealous" star has gotten married.
The wedding to 36-year-old model and actress Priyanka Chopra happened this weekend and is actually being performed in two parts.
The couple and their family had already been in India for a couple of weeks to celebrate Thanksgiving. Then, they all decided to hang out in the country until the wedding this weekend.
Then this Saturday came and the couple got married in a Western and Christian based ceremony officiated by Nick's dad Paul Kevin Jonas Sr.
Luckily, Priyanka Chopra has some great connections and is conveniently close friends to Ralph Lauren. She was then able to get him to design all the clothing for the wedding. That includes her beautiful dress, Nick's tux, the dresses for the bridesmaids, the suits for the groomsmen (including Nick's three brothers), and members of both families.
And it looks like the wedding was a great, big smash by the looks of these photos shared by the happy couple on social media.
But that's not the end of it, because the couple and family are going for a round two. What's so great about Nick's and Priyanka's relationship is that they like to share their culture with each other, and their wedding shouldn't be any different.
The two decided to have two different ceremonies. The Western styled one that happened on Saturday and an Indian styled one that is happening today. The couple and family will party it up Bollywood style after they go through a traditional ceremony from Priyanka's home country.
We hope to see pictures from that second event soon, and despite our mixed feelings of lost lust, we hope the best for Nick and Priyanka.