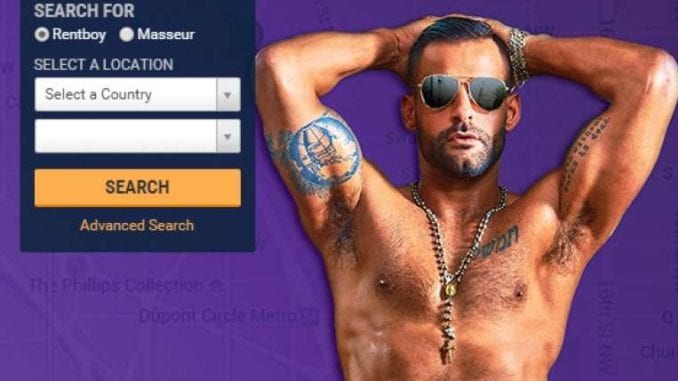 Rentboy.com News
Attorneys for the founder and CEO of former rentboy.com, the gay escort website shut down by the federal government in 2015, are arguing that their client should not be given a "non-incarceratory sentence" when he stands before a judge in Brooklyn federal court on May 5.
Update 5/5/17: Sentencing moved to July 21 per request from U.S. Attorney as reported by the adult website, St8upgayp*rn.
"We respectfully submit that a non-incarceratory sentence for Jeffrey Hurant is sufficient but not greater than necessary to achieve the sentencing purposes," wrote Michael Tremonte, Hurant's attorney, in an April 29 sentencing memorandum. "Because the prosecution has put [rentboy.com] out of business, we respectfully submit that no further sanction is necessary for the corporate entity."
Mr. Hurant pleaded guilty to one charge of promoting prostitution and, on behalf of the business, one charge of money laundering during his appearance before a Brooklyn judge in federal court this past October.
More: Boyfriends become male escorts to stay alive
Federal prosecutors recommended a prison term ranging from 15 to 21 months. The U.S. government has already seized an estimated $1.5 million that it claims were proceeds from the business and held in various financial institutions.
At present, the government and Mr. Hurant haven't agreed on a sentence and Judge Margo Brodie who will sentence him, won't be bound by such an agreement. Mr. Hurant has previously agreed that he will not "appeal or otherwise challenge a sentence with a term of 24 months or less of imprisonment," Tremonte wrote in the memorandum.
Complicating the sentencing is the US Probation and Pretrial Services System (PPSS), which is a section of the federal court system. It has recommended a longer sentence in its pre-sentence report.
While that report is not public, it was mentioned in Tremonte's memorandum as well as a second document that he filed in objection to the pre-sentence report.
PPSS recommended 33 to 41 months in one section of its report and 30 to 37 months in another. It argues the longer prison sentence, in part, by suggesting the escorts who advertised on "Rentboy" as Hurant's victims, stating, "Rentboy.com had hundreds, if not thousands, of victims," according to the quote from the report cited in Tremonte's memorandum.
"However, Probation also noted that the government had not identified any victims of the offense," Tremonte wrote.
Mr. Hurant was indicted on one charge of violating the federal Travel Act and two charges of violating a federal money laundering statute. The Travel Act, which became law in 1961, makes specific state crimes a violation of federal law when committed across state lines. Use of a phone, email, snail mail, or other forms of interstate commerce also fall under this act.
The underlying state charges in the case were promoting prostitution and facilitating a crime by a person under 16.
When Rentboy was raided and arrests followed, it ignited protests in four cities, including NYC, and condemnations from many LGBTQ groups.
Mr. Hurant concedes he violated the law however, his lawyer presents him as an ethical business owner. The Tremonte memorandum cites that Hurant offered escorts courses on how to manage their money, on how to stay safe, and on sexual health.
Additionally, he claims that he awarded scholarships to escorts who had the goal of going to college and helped to raise funds for LGBTQ community groups.