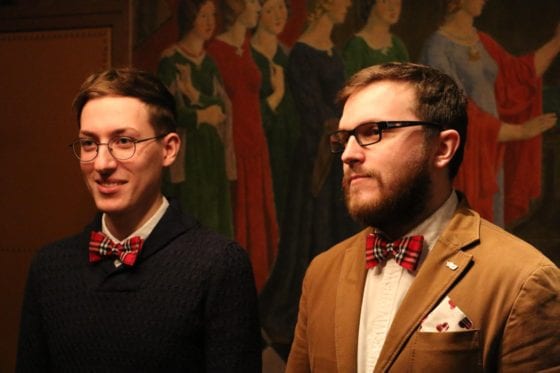 Russian Police Are Hunting
Two gay men just became the first same-sex couple to legally get married in Russia, and now the country is out to get them.
Eugene Wojciechowski and Pavel Stotsko are the gay couple that got married. The two have been together for six years, according to the Moscow Times, and are thrilled to be legally married to each other.
"We have always dreamed of a wedding so that in the face of society we will give vows to each other in devotion and love," Stotsko writes on Facebook. "Although our love is not recognized in Russia as the norm."

"Until we lived together, we met on the street, sneaking out in the dark alleys, hiding from strangers, friends and family," Stotsko continues. "We were silent and patient, as everyone was silent and tolerated. But we supported each other and remained strong."
The two then decided to confirm their bond by getting married abroad on January 4 in Copenhagen. After that, they took their notarized Danish registration forms to the Moscow registry office to have the marriage page of their passports updated.
As they told Russia's Rain TV, the two had planned to go through legal battles to have the government recognize their marriage, but instead were surprised to find that the office was more than willing to stamp their passports.
"It turns out that it was not necessary to fight," said the couple. "It's a shock."
Why did the marriage go thorugh, you might ask? Because of a certain loophole.
You see, while passages of Russian law say that marriage is only between a man and a woman, any foreign marriage is ok as long as it doesn't violate article 14 of the Family Code. The article says that marriages between family members, people who are already married, and people legally designated as mentally ill are null and void. That said, it says nothing about same-sex marriages.
As you might imagine, the Russian government is not happy that this couple found this loophole.
The Moscow registry office was quick to deny that it had stamped the forms through the following online statement:
"Employees of state service centers don't stamp passports. Therefore, the information indicated in the news is false."
In addition, lawmakers are now making quick work to get rid of the loophole. Internal Affairs Minister Vitaly Milonov stated that he is working with Russian legislature to "amend the Family Code as to which marriages can be recognized in Russia." He also added, "Somewhere in Somalia, they will begin to recognize marriages with farm animals."
And sadly, it seems that Wojciechowski and Sotosko are in serious danger. While Stotsko initially said that the only police involvement was their attempt to confiscate the couple's passports, it seems that their involvement has escalated.
Not only have the police contacted and threatened family members of the couple, but now the police are slamming on the couple's own doors.
The Russian LGBT Network, known for helping gay and bisexual men escape Chechnya, shared on Facebook that police were pursing the two and have their apartment surrounded.
"The police does not state the reasons of their appearance," the organization wrote. "Right now they cut off the electricity and internet connection."
In addition, the Ministry has declared that their passports are invalid.
We'll keep you updated if more news should come.