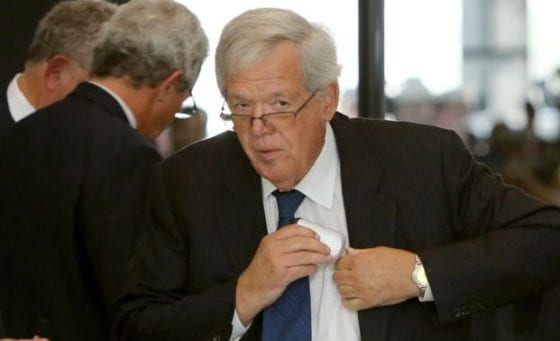 Hastert is Repeatedly Called a Child Molester By Federal Judge
Dennis Hastert, once one of the most powerful republicans in the United States Congress who served as Speaker of the House from 1999 to 2007, was sentenced today in a Federal Court in Chicago on charges of illegally structuring bank transactions as part of a cover up involving sexual abuse of young members of the high school team he used to coach.
"The defendant is a serial child molester," said Judge Thomas M. Durkin in Federal District Court before announcing his 15-month sentence. Durkin added, "Nothing is more stunning than having 'serial child molester' and 'speaker of the House' in the same sentence."
Mr. Hastert was officially charged last May with lying to federal investigators and making cash withdrawals in such a way to hide the fact that he was paying off one of his victims some $3.5 million to remain silent.
The former wrestler and apparent family friend of the former Speaker, identified in court documents as Individual A, told the story of his abuse in a motel room at the hands of Hastert back when the wrestler was 14. It has been reported a total of five men so far are known to have been sexually abused by the former speaker.
It is important to note that Hastert was not officially charged with sexual abuse because the incidents were outside of the statutes of limitation. The former Speaker's attorney's however had said that Hastert was "deeply sorry and apologizes for his misconduct that occurred decades ago and the resulting harm he caused to others."
When asked by the judge about an alleged victim, Hastert replied "It was a different situation." The judge then asked for more information, pressing him directly whether it was sexual abuse.
"Yes," he said the former Speaker.
It is noteworthy to point out that while a state legislator in Illinois, Hastert opposed bills that would have barred discrimination against gays and lesbians. He was against the Federal Hate Crimes Act back in 2000; a piece of legislation introduced after the murder of Matthew Shepard.
Additionally, Hastert literally brought to the floor of the congress an amendment to the constitution that would have federally defined marriage between one man and one woman.
When the amendment finally came to a vote in July 2006, it was defeated. But Hastert vowed to keep fighting. "Be assured that this issue is not over," he said.
Hastert was elected to congress in 1986 in the Illinois 39th District. The judge will recommend that the former Speaker spend his sentence in a prison hospital because of his ailing health.