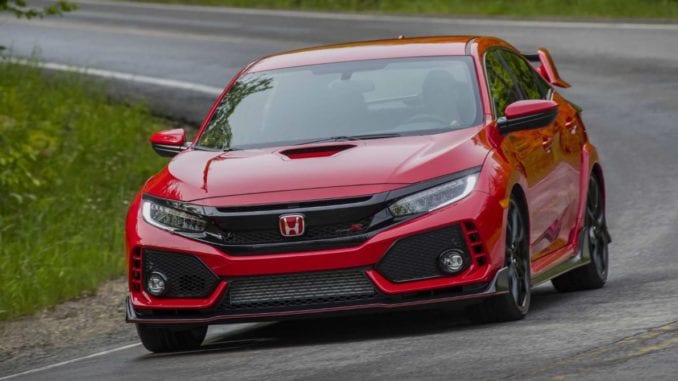 Review 2019 Honda Civic
The 2019 Civic Type R is ideal for anyone who likes street racing vehicles but lacks the time and/or expertise to create one themselves. From the exterior side skirts to the suede racing seats, from the powerful sound of the exhaust note to the 12-speaker audio system, Honda has provided a stock vehicle that looks and feels like a custom kit Lambo killer.
You'll turn heads for more than one reason in the 2019 Type R Civic, so get ready for some attention.
Introduction to the 2019 Civic Type R
The fastest Honda Civic on the market is the 2019 Civic Type R. Driving enthusiasts and gearheads have been hounding Honda for this vehicle for years. There's an Acura Integra Type R that is extremely popular with street racers. Drivers who love the Honda Civic have had to modify their Civics with aftermarket VTEC controllers and motor swaps to keep up with competitors on the street.
All that has changed with the introduction of the Civic Type R. Now, it carries the highly coveted red Honda badge, the same one that's on the Acura Integra Type R. The 2019 Honda Civic Type R is faster than the Ford Focus RS and the Hyundai Veloster N. It has eye-catching style and lots of speed, but that's about all you get. Take a closer look at the Type R Civic and see where it excels and comes up short.
Stylish Design
There's no debate about it. The 2019 Honda Civic Type-R just looks fast. That's a trick that many vehicles can pull off, but few do so in such impressive fashion. The Type R Civic has a segmented mesh grille up front that looks like a custom kit on a street racer. Honda engineers saved you the trouble of tricking it out yourself and poured extra style sauce on the front fascia right from the get-go.
The profile of the 2019 Civic Type R is unapologetically aggressive and sharp. It has large wheel wells that can accommodate 20-inch wheels and colored brake calipers to match the exterior paint. The rear of the vehicle has a large, aerodynamic spoiler. It also sports three exhaust pipes in the center of the vehicle.
The Type R Civic is available in six color palettes. It's difficult to choose one over the other, partly because the body design complements nearly any color. Championship White is perhaps the best exterior paint choice for contrasting the grille and inserts all along the frame. Crystal Black Pearl is the ultimate stealth choice, as it camouflages some of the Type R's signature elements.
Related: What's new with the 2019 Mazda CX-5?
There are a number of add-ons that can take the 2019 Civic Type R to the footsteps of supercar mountain. You can add a carbon fiber wing spoiler and mirror cover to the Type R, but don't expect these small features to lower your vehicle curb weight or add horsepower. They're just for extra style points.
Interior Comfort
The interior of the 2019 Civic Type R is a delight to the senses. If you had any doubts that the new Type R Civic is a genuine article, you can just look at the shift knob. Just underneath it you'll find a unique serial plate that has the unique number of your vehicle. Each one is truly one of a kind.
The 2019 Civic Type R has brushed aluminum pedals and a flat-bottomed, leather-wrapped steering wheel. It's thick and has a tight feel to it when you lean into corners. You can also outfit the Type R with a leather shift knob. The area around the gearbox is thankfully uncluttered with extra controls. There is a 7-inch touchscreen in the center console, but there are also manual knobs and push buttons for those who prefer a more tactile feel.
Surprisingly, the Type R Civic has plenty of room to relax while you're ripping up the road. It's got more front head and leg room than the 2019 Audi RS 3 sedan and the 2019 Subaru WRX STI. In total, there 97 cubic feet of passenger volume in this compact sedan. You're probably not interested in cargo space if you're in the market for a Civic Type R, but it's good to know that you can fold the rear seats down and gain access to 46.2 cubic feet of cargo space.
Performance Capabilities
Most 2019 Honda Civics have two engine options. There's the base model 158 horsepower four-cylinder engine. Then, there's a smaller turbo four-cylinder engine that gets up to 180 horsepower. The 2019 Honda Civic Type R has a completely different set-up under the hood. It comes with a VTEC turbo-charged four-cylinder engine that achieves 306 horsepower and 295 pound feet of torque.
Beneath that red engine cover is a 2.0 Liter direct injection powerhouse that banks on Honda's 70 years of racing pedigree. The VTEC engine is turbocharged and intercooled. All that power is managed by a phenomenally well-balanced 6-speed manual gearbox. Automatic or paddle-shifting is not an option on the Type R Civic. There are three different driving modes. You can toggle between comfort, sport and +R. These settings play around with the suspension, steering and throttle response to deliver various driving experiences.
If this Civic had all-wheel drive, then that would be a bonus. That's not a big shortcoming when you consider that the Type R Civic has a helical limited-slip differential to send optimum power to the front wheels. What the Type R lacks in outright speed, it makes up for in handling. It comes with high performance tires, Brembo brakes, and adaptive dampers.
The 2019 Honda Civic Type R has won numerous awards for Hot Hatch of the Year and it also gets lots of co-signs from professional racers like Joshua Dowling and Jenson Button. Check out Shelby Blackstock's Honda Civic Type R.
A bittersweet finish with a well-deserved podium for @lapmotorsports and @tomoracing & @Shelbilly, but a tough DQ for the @HARTracingteam and @RyanEversley / Chad Gilsinger leading the race at the checkers. #PoweredByHonda @JASMotorsport pic.twitter.com/YGGxULPyKw

— HPD-North American Motorsport (@HondaRacing_HPD) August 5, 2019
Safety Features
Safety should always be a top concern when looking at vehicles that are built for a spirited driving experience. The designers of the 2019 Honda Civic Type R did not neglect this vehicle's safety potential. Advanced airbags for the front, side and curtain come standard and the Civic is built with Honda's ACE body construction. It's got layers of protective paneling to minimize the severity of frontal impacts.
There is a rearview camera onboard the Type R Civic, but little else when it comes to active safety features. You won't find blind spot monitoring or pedestrian avoidance technology on this vehicle. There is an electronic brake assist system but there's no automatic emergency braking.
Technology and Infotainment
The driver's digital display carries loads of useful information about the vehicle and it can be customized to your preference. You can get a view of your throttle input, boost pressure, and G Force. You can get big sounds from the exhaust, but you can also enjoy your favorite tunes. There's a 12-speaker premium audio system with a subwoofer.
The Type R has Android Auto and Apple CarPlay connectivity. Additionally, each Civic Type R comes with a voice activated navigation system.
Final Analysis
The 2019 Honda Civic Type R balances street racer style with genuine performance. It's as if Honda automakers decided to create a custom street racing vehicle that could be sold directly from the showroom floor. In a sense, that takes some of the fun out of modifying a Civic on your own. Yet, you get an all new vehicle that pays homage to a legendary platform while simultaneously elevating it to another level. All of this is achieved for about $37,000, making it affordable for first time owners.
Related: Check out the 2020 Acura RDX
Drivers of the 2019 Civic Type R might get some ribbing from gearheads who've spent years ripping out their vehicle's guts and motor-swapping their Honda four-cylinder engines for Acura Type R V6s. Yet, they'll still want to see the 2019 Type R Civic in action. It's got a VTEC turbo and sport-tuned suspension. It will be hard to resist the urge to unleash its demons every now and then. The new Civic might even create a love for vehicle modification and racing where one didn't exist before.
Yet, it can't go unsaid that the style of the 2019 Honda Civic Type R lacks some maturity. It's delightfully juvenile with its pumped-up wing spoiler and pleated fenders. The interior reeks of Axe body spray and Red Bull energy drinks, but who cares?
The Type R looks fun to drive and that's a value for any age range. The 2019 Type R isn't just for show either. It can back up the looks with 306 horsepower and a 6-speed manual transmission. So, block out the haters and enjoy life behind the wheel of a 2019 Civic Type R.