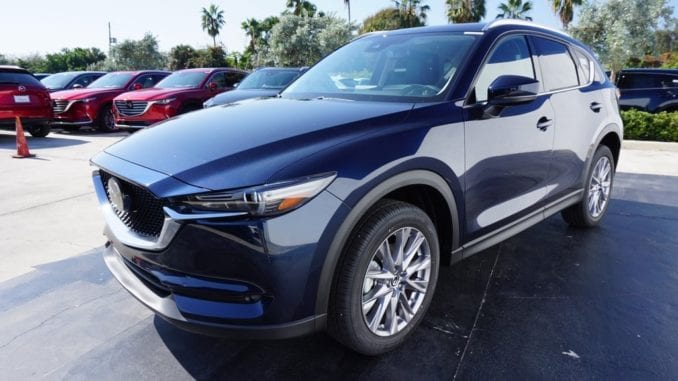 Review of the 2019 Mazda CX-5 Grand Touring Reserve
Style and speed go hand in hand with the 2019 Mazda CX-5 Grand Touring Reserve. This mid-sized crossover has all-wheel drive and a turbo engine that could make you think twice about buying a BMW. Onboard tech, leather seating, and advanced safety features make this model of the CX-5 one of the best new crossovers on the market.
Introduction to the CX-5
The 2019 Mazda CX-5 nails refinement and style right out of the gate. The Grand Touring Reserve model adds speed to that equation for a truly winning combination. It has a turbo-charged engine and all-wheel drive, making it the fastest CX-5 ever made.
The CX-5 sits in the middle of the pack for Mazda's crossover and SUV range. Below it, there's the CX-3 and above it, there's the full-sized CX-9. The CX-5 fares well against its competitors by offering something luxurious at a price that is shockingly affordable.
Upon closer inspection, you'll notice things like a smaller touchscreen and sub-par gas mileage, but you really have to strain your eyes to find a fault with this vehicle. So, let's take a closer look at some of the features on the 2019 Mazda CX-5 Grand Touring Reserve model.
Exterior Style
Engineers at Mazda really excel at making modestly priced vehicles look upscale. Perhaps the best example is the 2019 Mazda CX-5. It's head and shoulders above most of its competitors in the style department. It has many of the same style elements as other Mazda vehicles – the same square front grille, swooped back windshield and flowing body lines. However, that "sweet spot" size of the CX-5 give those features an ideal canvas to showcase their greatness.
The profile of the CX-5 is well-sculpted and it's thankfully devoid of any garish cuts and angles. The rear of the vehicle has a power liftgate that can be customized to open to different heights. There are also dual exhaust ports back there that give the CX-5 a sporty finish.
Related: Review of 2020 Nissan GTR
Sometimes, crossovers like the Honda CR-V can seem too busy. The Hyundai Santa Fe can be a bit overly aggressive.  The 2019 CX-5 from Mazda takes a more subtle approach and it works exceptionally well here.
The 2019 Mazda CX-5 is available in seven different exterior paint colors. Nearly all of the promotional content for Mazda showcases their vehicles in the signature Soul Red Crystal Metallic paint, but it actually will cost you $595 extra to equip it.
The Eternal Blue Mica color is no extra charge and still looks fantastic on the CX-5. So, consider looking beyond the basic red Mazda paint job to make your vehicle more personalized.
Interior Comforts
The 2019 Mazda CX-5 is a mid-level crossover with modest interior space. The layout is simple and favors the driver. Buttons and controls are easy to reach. There's a leather-wrapped steering wheel and matching leather-wrapped shifting knob. The leather seating is comfortable without feeling too plushy.
The Grand Touring Reserve model will exhilarate a driver and front passenger but leaves something to be desired when it comes to the rear bench. That's mostly just an illusion having to do with the low roofline of the CX-5. With 39.6 inches of legroom and 39 inches of headroom in the rear, the Mazda CX-5 sits about even with the 2019 Subaru Forester and the 2019 Honda CR-V. The rear seats of the CX-5 fold down to open the interior up for nearly 60 cubic feet of cargo space. Again, it's not a lot of space, but the CX-5 manages it well.
In the tech department, the CX-5 Grand Touring Reserve has a 7-inch touchscreen. This is arguably the only drawback of this vehicle. A touchscreen that size screams budget car, not luxury crossover. However, you do get 4 USB ports, 10 speaker BOSE audio system, and Sirius XM satellite radio. Additionally, this CX-5 also comes with Android Auto and Apple CarPlay connectivity at no extra charge.
Performance Capabilities
This version of the 2019 CX-5 has a SKYACTIV-G 2.5 Liter turbo-charged four cylinder engine. The Grand Touring Reserve model adds a significant performance boost over the other variants of the CX-5 that don't have the turbo. You get 63 more horsepower and 124 more pound feet of torque. As can be expected, you're going to lose some fuel economy in exchange for that performance boost. You're only going to get an estimated 22 miles per gallon in the city.
The 2.5 Liter turbo is mated to an automatic 6-speed transmission. If you want to test this vehicle's capabilities further, than you can use the controls on the gearshift assembly to toggle through sport and manual shifting modes. The torque is available at low RPMs and the transmission flows through the gears with very little "turbo-lag".
The 2019 Grand Touring Reserve has exceptional handling, as well. Other models of the CX-5 are available with front-wheel drive, but the Grand Touring Reserve is all-wheel drive only. That makes carving through turns and corners much more fun. It also helps manage the CX-5's 2,000 pound towing capacity if you need to use it for utility.
Mazda automakers have made a concerted effort to market the CX-5 as a remarkably capable crossover. Here is a view of the 2019 Mazda CX-5 tackling the great outdoors.
Spacious and tough, the 2019 #Mazda #CX5 is always up for an escape to the countryside. pic.twitter.com/UKASJBEGzE

— Mazda Motor Europe (@Mazda_Europe) August 9, 2019
Safety Features
The 2019 Mazda CX-5 was awarded a Top Safety Pick+ by the Insurance Institute for Highway Safety (IIHS). That's due to the adaptive LED front lighting system headlamps that give it superior visibility. Every vehicle comes with a rearview camera and a full complement of advanced airbags.
The Grand Touring Reserve model comes with some pretty impressive safety tech that might run up the price tag on competing vehicles. You get lane departure warnings, rear cross traffic alerts, and blind spot monitoring. You also get a number of electronic safety features like brake assist, hill launch assist, and traction control. You'll probably never notice these systems working in the background while you're driving, but it's good to know that they're there.
Final Analysis
The 2019 Mazda CX-5 Grand Touring Reserve model has an MSRP of $34,870. You don't have to be a big spender to drive an attractive crossover with forward-thinking technology. If you're thinking to equip extra features and options, your final price could climb to the low-40s, but there is lots of value at that price point. Even at $40,000 you're getting a vehicle that has premium style and luxury aesthetics.
This specific model trim houses a powerful turbo engine, a responsive transmission and all-wheel drive handling. Without adding costs to the bottom line, you get advanced safety features like automatic emergency braking and blind spot monitoring.
There is more utility elsewhere in the market, but you'd be hard-pressed to find more refinement. The 2019 Mazda CX-5 base model isn't a show pony, but when you jump up to the Grand Touring Reserve version, you get a crossover that can inspire you with pride and an enjoyable ride.