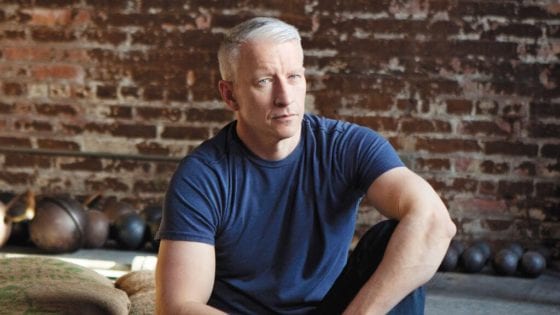 Anderson Cooper Facts
Anderson Cooper has been a favorite among television news audiences for some time now. While there had been speculation for years that the handsome CNN reporter might be gay – it was mostly based on rumor and innuendo. That all ended in July of 2012 when he officially came out online.
And while that is an important part of Cooper's life story, there's plenty more about the man that goes beyond his sexual orientation. The truth is, "news" that a celebrity may be gay really isn't that big of a deal anymore, you know? FYI – Anderson is rumored to be getting ready to marry his longtime boyfriend, Ben Maisini in the near future.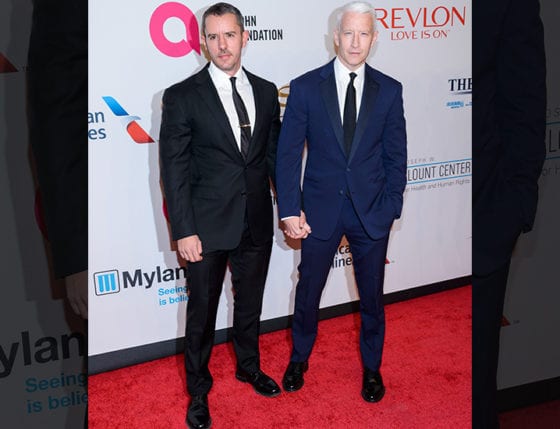 In any event, we recently watched the HBO documentary, Nothing Left Unsaid: Gloria Vanderbilt and Anderson Cooper. We found ourselves riveted by the inside details of Anderson's life.
The documentary, with lots of Anderson Cooper face time, offers viewers a unique, bird's eye view of the star and his family in a way that contextualizes his life in a profound way.
What follows is some basic background information on Cooper, plus five interesting facts you might now know. At the end of the post, we've included a video that offers a flavor of the HBO special. Let's jump right in!
Gay Pop File: Anderson Cooper
Birthday: June 3, 1967
Zodiac Sign: Gemini
Height: 5'10
Eye Color: Blue
Shoe Size: 10
Body Type: Athletic
1. Anderson Cooper's father wasn't rich
Many people believe that both of Anderson Cooper's parents came from big money. While that may be true of his mother Gloria Vanderbilt, that certainly was not the case of his father.
In the documentary, it is revealed that Anderson's dad, Wyatt Emory Cooper, was from a poor family in Mississippi. When Anderson was just 10 years old back in 1978, his father passed away from cardiac problems during open heart surgery. Apparently Wyatt Cooper had a history of heart disease.
2. Anderson Cooper's Brother (Carter) committed suicide
In a very moving and tragic part of the documentary, Anderson and his mother talk about Carter Cooper, who committed suicide in July of 1988. Carter was two years older than Anderson, born in 1965.
As part of the documentary, both Anderson and his mother visit the cemetery to pay their respects to both Carter and Wyatt. Father and son are interned next to one another at Moravian Cemetery in New York.
3. Anderson hasn't talked to one of his brothers in decades
An interesting factoid that many people do not know is that Anderson Cooper has two half-brothers; Chris and Stan respectively. Prior to Gloria Vanderbilt's marriage to Wyatt Cooper, she was wed to world renowned conductor Leopold Stokowski.
While Stan and Anderson are close, accordingly to the documentary, Chris is nowhere to be found. The son cut himself off from the family back in 1978 after becoming enraged that his mother's psychotherapist was sticking his nose in Christopher's love life. When you do the math, this means Anderson has not seen or talked to Chris in over 40 years.
4. Anderson doesn't want his mother's fortune
As part of the build up to the HBO documentary and subsequent book release (available online at Amazon), Anderson shared that he was not expecting to receive his mother's rumored 200 million dollar fortune.
Media reports suggest that the CNN Anchor currently earns 11 million dollars a year. "I don't believe in inheriting money. I think it's an initiative sucker. I think it is a curse."
5. Anderson interned for the CIA
While it may be hard to believe, Anderson Cooper wasn't always a television news reporter. During college at Yale, he spent two summers interning for the Central Intelligence Agency. He graduated in 1989 with a BA in political science.
Ultimately, Anderson wanted to report the news and not work for the government. He tried to get hired on with ABC to answer telephones as a way of getting his foot in the door. His initial attempts were unsuccessful. He would eventually join the network in 1995 and become a correspondent.
Here is a video of Anderson Cooper's mom opening up about her son as part of the promotional releases for the documentary and book. Enjoy!