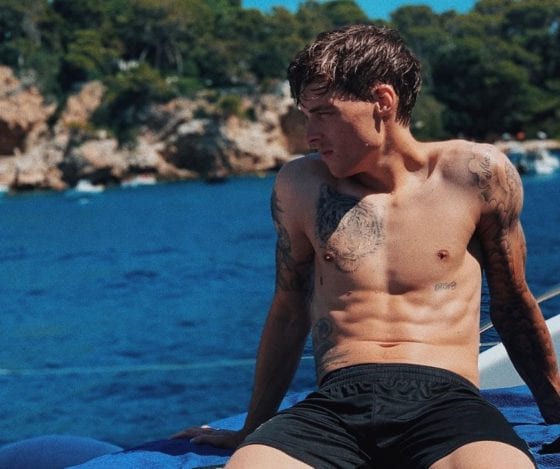 Quick Facts about Norway's young billionaire Gustav Magnar Witzøe.
Gustav Magnar Witzøe says he's just a regular guy, but that's hard to believe. He's young and rich. He's widely regarded as the youngest male billionaire in the world. Gustav travels all over the world, wears expensive designer clothes and drives fast supercars.
Yet, that just begins to scratch the surface. Gustav Magnar Witzøe was gifted half of his father's salmon fishing company when he was just 19 years old, but he's not your average rich kid. There's a certain swagger and charm about him that is undeniably infectious.
If you're dying to know more about this handsome, young billionaire. Then, check out these 7 Fast Facts about Gustav Magnar Witzøe.
Pop File: Gustav Magnar Witzøe
Date of Birth: February 8th, 1993 in Froya, Norway
Height: 6'1
Hair Color: Brown
Eye Color: Blue
Sign: Aquarius
Body Type: Slender
1. He is one of the world's youngest billionaires.
Gustav is just 27 years old and has a net worth of $2.9 billion dollars according to Forbes. He's not a self-made billionaire though. He inherited his fortune from his father and together they operate a large salmon producing company called SalMar. He officially became a billionaire at the age of 19.
2. He's a male model.
Gustav is a professional model with Next Models Worldwide and Team Models. He's always photographed looking dapper in designer clothes, but his fashion fame is often subdued by his extreme wealth. Gustav is still just an Instagram model for now, but his star is quickly rising.
3. He has tattoos.
Gustav is one tatted-up dude. His whole left arm is covered in high quality, black and grey inkwork.  There are portraits of his parents as angels on his left arm set against a cloudy and starry sky. The caption reads –  "My Two Heroes". He's working on his right arm, as well. Gustav also has a stunning black and grey tiger on his chest.
4. He comes from Norway.
Gustav was born on the island of Froya and that's where his family's company is located. He lives in the city of Trondheim, a well-known technology haven. As an interesting fact, Norway is home to three of the world's youngest billionaires. So, Gustav is in good company.
5. He likes dogs.
Gustav is often photographed with his pet dog. He has a blue Staffordshire bull terrier. In a recent snap behind the wheel of an Audi, Gustav's dog is sitting in his lap. The caption reads – "Co-Pilot". According to Instagram, the two seem inseparable.
6. Gustav's been to prison.
When Gustav was 19 years old, he was out for a drive and got caught speeding. He was going 116 kmh in a 60kmh zone. He got thrown in prison for 2 weeks as a result of his need for speed. While he was incarcerated Gustav said that he was targeted for extortion by at least one other inmate.
7. He has a mystery love life.
Gustav Magnar Witzoe keeps his romantic life private. He's been seen cozying up to Vera Ekken on Instagram and the pair have dropped romantic emojis on each other's posts. He's also rumored to have a romantic connection with one of his business partners – Mats Østgaard Pettersen. She happens to be 12 years his senior.
Related: Florian Munteanu – A closer look at the bodybuilder and actor
Most intriguingly, there have been rumors that Gustav is gay. Although he's seen in tons of chummy pics with other men on Instagram, some say that he's in a relationship with celebrity stylist Jan Thomas Mørch Husby. Gustav has never officially confirmed or denied the claim.
Wrap Up
Gustav Magnar Witzøe is a young billionaire, businessman and a model with a bright future ahead of him. If you want to learn more about him, be sure to visit his Instagram page.
Are you a fan a GMW?