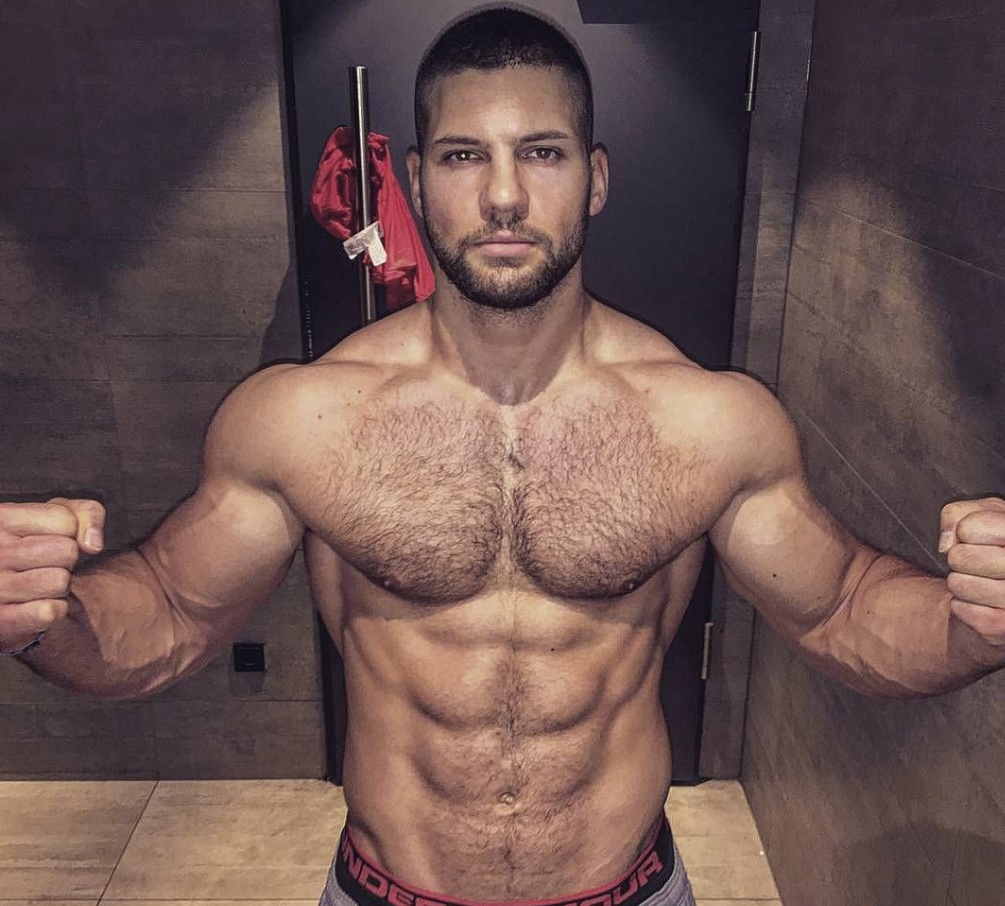 Facts on "Big Nasty" Florian Munteanu
Florian Munteanu – he's a Romanian bodybuilder, boxer and actor whose pictures frequently appear on social media. But what do you really know about him?
People want to know about his background, how tall he is and what's his fitness routine? They also want to know how he landed the part in the movie, Crede II?
Finally, folks want to know how Florian got the nickname, "Big Nasty?"
Given interest in the man, I thought I'd do some research and learn about his background. To keep it real, Florian caught my eye some time ago when I was scrolling through my insta-feed, looking for fitness inspiration.
And can I be honest with you? The guy is kind of hard to miss.
What follows are 7 facts of Florian Munteanu that might surprise you. Are you ready? Check it out.
POP FILE: FLORIAN MUNTEANU
Birthday: October 13, 1990, Munich, Germany
Height: 6'4
Weight: 245 LBS
Eye Color: Greenish-Hazel
Shoe Size: 12-Wide
Zodiac Sign: Libra man
1. Romanian ethnicity
Although Florian was born and raised in Germany, his ethnic background is Romanian. Many people of Romanian decent find their ethnic roots traced to early Rome, Italy and the Balkans.
Florian's background may help to explain Florian's unique features, including his greenish eyes and gladiator build.
2. College educated
Bodybuilders often get stereotyped as being all brawn and no brain. This certainly isn't the case for Florian. He attended the University of Munich in Germany.
At 24, studying sports media and event management, he graduated from with a Bachelor of Arts in 2014.
https://www.instagram.com/p/BlN9rRXgYD0/
3. Massive and hairy
It's obvious when looking at Florian that he's got a massive physique. Standing at 6'4 and weighing in at 245 LBS, his body is enormous.
While many of his photos online show him as smooth, the truth is Florian is hairy, suggesting he spends a lot of time manscaping.
4. Snagged Creed II role
People want to know how Florian was cast in the movie Creed II, as Viktor Drago with the main star being Michael B. Jordan. Well, according to an interview he gave to Newsweek:
I got the offer to audition for the role. I auditioned with a few specific scenes they sent over. Every time I'd send over an audition tape of one scene, they'd be like, "We like that. We want you to do another scene." I sent them videos of my training and pictures, and that stuff helped because they knew I was big, I was tall, I had the ability to box and I was able to speak English."
https://www.instagram.com/p/BeObHzPARuk/
5. Big Nasty  in more ways than one
One of the main rumors that have circulated about Florian relates to his size – and I'm not talking about his body. Photographic evidence suggests there may be much truth to the girthy gossip.
A simple Google search of various photos reveals a mountain of bulging evidence. I'll let you do the research to see for yourself.
As an aside, he got the nickname "Big Nasty" when he was a child playing video games. You can read more on Just Jared.
6. Family of sports enthusiasts
Several background articles appear online that suggest Florian is from a family of sports enthusiasts. His father is an active boxer and his grandfather was also active in sports.
Competitive sports appear to go back far in his family tree on his paternal side, dating back to the times of the Ottoman Empire.
https://www.instagram.com/p/BdKSs_CgFyE/
https://www.instagram.com/p/BZ6xFKHgoHU/
7. Intense workout routine
To get the body of "The Big Nasty", you've got to spend lots of time in the gym. To the surprise of no one, that's exactly what Florian does on a weekly basis.
According to a piece appearing in Muscle and Fitness that featured his trainer, Florian's fitness program involves a combination of lifting weights five times a week, plus three to four cardio sessions.
Additionally, HIIT workouts, swimming, and sprint training are all part of his routine. In many ways, his exercise program resembles that of bodybuilder and model, Chase Ketron.
https://www.instagram.com/p/BZom09Ngcvb/
Wrap Up
There's no doubt about it. Florian Munteanu is an actor that's hard to miss. Inspiring bodybuilders everywhere, he's sure to pop up in future movies.
Are you a fan of Florian? If so, what do you like most about him? Does he motivate you to pack on muscle and create a cut physique?