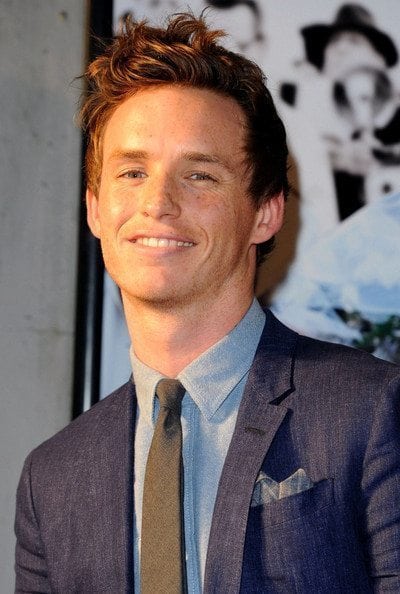 Eddie Redmayne Fun Facts!
At just 34 years old, Eddie Redmayne already has the type of career that most actors would kill to have. He's also very gifted! Even though he's still relatively new to the scene, he's already won both an Olivier Award and a Tony Award for his performances in the stage play "Red."
In 2011, he received the Critics' Circle Theater Award for his performance in "Richard II." And just recently, he won the coveted "Best Actor" category in the Golden Globes for his role as Stephen Hawking in the movie, The Theory of Everything.  Redmayne has been nominated for an Oscar for this same role!
What follows are 8 sexy facts about Eddie Redmayne that you may not know about. We've included some basic background information as well – plus a poll for you to vote in towards the end of the post.
Are you ready? Let's jump right in!
Eddie Redmayne Bio
Date of Birth: January 6, 1982 – London, England
Sign: Capricorn
Height: 5 FT 11
Eye Color: Blue
Shoe Size: 11
Body Type: Athletic
1. He's Got a Voice Like an Angel
All it takes is a few quick moments looking at his resume to see that Eddie Redmayne likes to sing – a lot. "Les Miserables" is one of the most famous musicals of all time and he also has singing credits on a wide variety of other films that he's been in – proving that he's as versatile as he is talented. Other stars who gained major status on Broadway include Hugh Jackman and Daniel Radcliffe.
2. He's Also a Model
As if being a hugely successful international actor wasn't enough to be considered sexy, Eddie Redmayne is also a successful model. He was the subject of a series of photos in 2008 for Burberry along with fellow uncomfortably attractive people Alex Pettyfer and Cara Delevigne. Other celebs who got their start in the modeling world include Shemar Moore and Colton Haynes.
3. He's Starting to Get Recognized for his Sexiness
When internationally recognized magazines like Vanity Fair are starting to take notice of how good you look, you know you're doing something right. In 2012, Redmayne was featured on the annual "Best Dressed List" that the magazine is famous for.
Lest you think that this was just a one-time honor, he was also recognized recently in GQ Magazine as one of the best-dressed men in all of show business. This is truly one accolade that he seems to be willing to win again and again.
4. He's Up for Challenges
After he finishes making the awards circuit rounds for "The Theory of Everything," Redmayne will next be seen in "Jupiter Ascending" – the latest film from the minds of the Wachowskis. If you think that name is familiar, you're right – they're the creative geniuses who first unleashed "The Matrix" on the world in 1999. FYI: Channing Tatum also stars in this flick.
5. He's an LGBT Supporter
Speaking of the Wachowskis, another sexy fact about Redmayne is that he's clearly an LGBT supporter. Though the Wachowskis were previously known as Larry and Andy, Larry has transitioned into Lana and had gender modification surgery in the last few years. Many have wondered how this would affect their ability to get actors for future high profile projects, but clearly Redmayne is not concerned about that fact in the slightest.
6. He's Willing to Take On Gay Roles
Though Redmayne is not gay himself, he clearly supports the LGBT community in more ways than one. In the film "The Savage Grace," Redmayne starred as a gay young man who was more than willing to make out with his male co-stars on screen. The film also starred Hugh Dancy, Julianne More, Unax Ugalde and more. Other stars, such as Leonardo DiCaprio, have taken on gay roles in movies and enjoyed much success!
7. He's Willing to Do On-Screen Nudity
In addition to his willingness to accept roles as a gay man in a variety of different projects, he is also more than willing to appear naked both on stage and on screen for the advancement of his craft. Going back to the film "The Savage Grace," Redmayne has his fair share of time spent on screen sans wardrobe. He also had additional nude scenes in films like "Pillars of the Earth."
It's certainly refreshing to see a notable actor who does not let his inhibitions (or the inhibitions of his talent management team) get the best of him as soon as success comes knocking at the door.
8. He's Got a Sense of Humor About Himself
One of the most important sexy qualities that an actor can have is a sense of humor. This isn't just limited to starring in comedies – plenty of "funnymen" are absolute bores once the camera stops rolling. To truly be funny in the sexiest way possible, you need to be willing to poke fun at yourself at every opportunity.
Case in point: Redmayne recently visited the Graham Norton Show on the BBC and talked about how he auditioned for the Peter Jackson "Hobbit" trilogy of films but didn't get the part. However, he did a lot more than just describe what went on during that fabled audition – he went as far as acting it all out, bit by painful bit, for millions of people around the world. Having this type of sense of humor about yourself is certainly one of the sexiest qualities that an actor can have, bar none.
Final Thoughts
Eddie Redmayne is a celeb who is well on his way to mega-watt status. An unknown factoid about Redmayne is that he suffers from severe red-green color blindness – but this has not stopped him from preforming on stage or in movies.
We hope to see this gifted actor at movie theaters for years to come. He seems to have a wonderful personality about himself with the rare ability to play a wide range of roles. We've included an Eddie Redmayne poll for you to vote in below – just for fun.
Thanks for visiting!