Channing Tatum Bisexual Rumors True?
Over the last several years, there have been a number of Internet rumors swirling about megawatt celebrity, Channing Tatum. The latest lines of gossip suggest that the star's wife, Jenna Channing, wants to get a divorce because she has grown tired of Channing's "Drunken Bisexual" parties.
There appears to be no basis for these rumors upon closer inspection – other than a blog-post entry by Movie Plot in July of this year, which contains a post title that is cleverly worded to suggest something "bi" may be going on.
Why do people think Channing Tatum is Bi?
We've written extensively about Channing Tatum in the past and explored the many sources of gay gossip that seem to be attached to this star. Generally speaking, gossip only "sticks" with a celeb when there are elements of truth infused into the story. This may not seem right and maybe even unfair but that is how it works. If you repeat a line of gossip over and over again and do so over the course of time, people start to "believe" there is some truth to it.
We are going to quickly walk you through the highlights about Channing Tatum and his past so you have a fairly good understanding regarding why so many of the "bi" rumors are taking hold among fans, followers and casual observers.
Are you ready?
Let's jump right in.
He used to be a stripper

He has been connected to five "gay" movies.

He's made remarks that can be thought of as "gay" (or gay sounding).

He burnt his private parts (silly reason perhaps but it is part of it).
1. Stripper
Earlier in Channing Tatum's life, he used to be a stripper. News of his days as a dancer came out in 2012 and included photographs. What is interesting to note here is that the "news" came out around the same time the movie, Magic Mike, was released to the public.
Being a male stripper does not mean that the person is gay. In the case of Channing Tatum, nothing has surfaced to suggest he danced in gay bars or that he preformed for gay men. Sure, there were "rumors" but no hard facts to substantiate anything. The fact that he was a stripper however was enough to cause many gay folks to engage in wishful thinking. And the movie Magic Mike only added fuel to the fire because of the flick's vibe.
As an aside, remember that Magic Mike had one actor in it that is now out of the closet, Matt Bomer. Not that it matters but the two appearing side by side have caused some to incorrectly think something was going on. There is nothing however to support this line of gossip.
2. "Gay Movies"
Channing Tatum has done a number of movies over the course of his career. Several of them had gay undertones while others were romantic in nature, which some on the Internet have classified as "gay" . There are two particular movies however that seem to be the main source of bi and gay rumors. These include Magic Mike and The Eagle. Both of these flicks had either gay undertones that one would have to be completely blind to have missed. Silly as it may be, these are the very types of things that can cause a line of pink gossip to start. And don't forget his role in the gay themed, Foxcatcher.
3. Gay Bisexual Remarks
There is no getting around it – Channing Tatum has made remarks that make people scratch their head and ask, "Is Channing Tatum gay or bi?" One of these remarks relates to George Clooney, an actor that Tatum said in a 2012 interview appearing in the UK's Sun that he had developed a "Man Crush" on Clooney. He went on to say, jokingly, that he would mess around with him
Tatum also made remarks about an actor he appeared in a movie with called Eagle. In response to an interview question asked by Vulture, he shared that he and the actor (Jamie Bell) have been having a bromance for several years and that they were sleeping together. A quick read of the entire interview appearing in Vulture however makes it fairly clear the comments were made in the spirit of fun.
The problem is that there already existed a "bi" and "gay" narrative about Tatum and so his remarks only added to rumor-mille driven narrative. Check out these latest gay/bi comments!
4. He burnt his manhood
We recognize this is a ridiculously silly reason for bi and gay rumors to start but it needs to be mentioned because of its significance. In 2010, Tatum revealed in a Details magazine interview that he had scorched his junk with boiling hot water during filming of Eagle. Apparently, the water was used in an effort to warm him up.
Here is the deal – his private parts and the filming of Eagle, which had a strong gay undertone, helped to fill the bi/gay narrative that was already circulating.
Other causes of Channing Tatum bi and gay rumors
There are a myriad of other reasons Channing Tatum is on the receiving end of bi/gay rumors. Some of these include his frequent appearances in gay read magazines, such as Out Magazine. Some people have assumed that because he is friendly to the gay press, he must be "bi" or "gay". In truth, it seems like he is really just being smart.
There have also been a number of false "coming out" rumors that have spread around the Internet that seem to have been made up.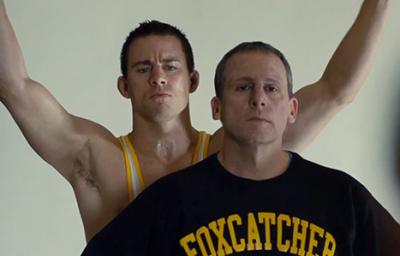 Summary
Magic Mike II is will be coming out in the summer of 2015 as of the latest news reports. It should surprise no one that various lines of bisexual and gay gossip will be popping up between now and the movie's release date. Channing Tatum and the Magic Mike franchise have absolutely HUGE gay followers.
When you look at the previous ensemble of sexy men, including Alex Pettyfer, Matt Bomer, Joe Manganiello, Adam Rodriguez, Kevin Nash, and Cody Horn – it makes sense that gay folks are going to be waiting with baited breath for the flick to be released.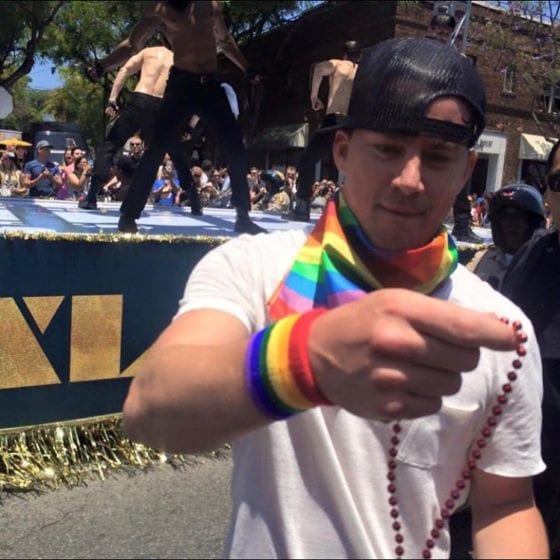 Final Thoughts
We have no earthly idea of Channing Tatum is bi or straight but we do know this – many of the rumors floating around about him seem to be caused by people who are looking to sell magazines or drum up traffic to their websites.
Are these rumors also part of a pre-movie release public relations effort to drive up interest in Magic Mike II? Some people may think this is the case and we admit, it is hard to tell. One thing is for sure. Channing Tatum is married to Jenna Channing and they share a child together. The two have repeatedly said they are not getting a divorce, despite persistent rumors suggesting otherwise.