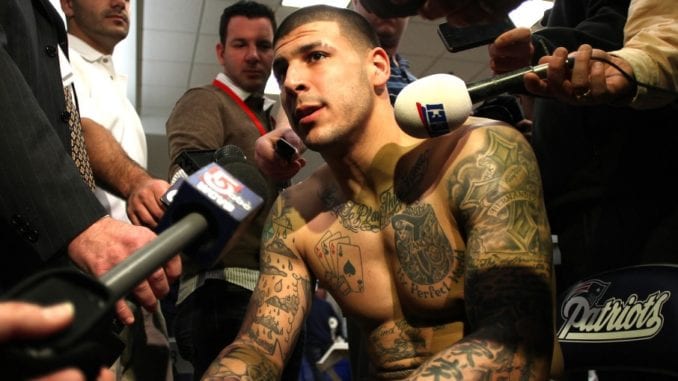 "We didn't want people to know"
If you have been following us for any amount of time, you probably know we have followed the details surrounding the now deceased former football player's life and death.
Hernandez is reported to have committed suicide in April of 2017 in his prison cell at the Souza Baranowski Correctional Center in Shirley, Mass. He was 27-years old at the time of his passing.
Hernandez was serving time for the murder of Odin Lloyd in 2013.
In the days and weeks following his passing, there were a number of stories that hit the newswire regarding Hernandez's private life with a specific focus on his having an alleged boyfriend while in prison.
In August of this year, his one of his lawyers was on record stating that Mr. Hernandez was "clearly gay".
Now, a man named Dennis SanSoucie has stepped forward and offered statements to the Boston Globe in which he identifies himself as Hernandez's gay lover.
Apparently, SanSoucie and Hernandez had been involved since middle school and the relationship continued high school. SanSoucie's dad, Tim, had once gotten into a fight with Hernandez's father when Tim was coaching their sons' youth tackle football team.
During their high school years, Dennis SanSoucie and Aaron Hernandez had become quite the powerful duo on the football team. SanSoucie was the school's quarterback and Hernandez broke a Connecticut high school record by catching 67 passes from SanSoucie.
SanSoucie revealed to the Globe that they smoked marijuana often and took great pains to hide their secret relationship: "Me and him were very much into trying to hide what we were doing. We didn't want people to know."
The Globe piece also suggests that Hernandez's father was extremely homophobic. One day when a young Aaron came home from school wanting to be a cheerleader, his father was totally against it.
'Faggot' was used all the time in our house," stated Hernandez's brother, Jonathan. "All the time. Standing. Talking. Acting. Looking. It was the furthest thing my father wanted you to even look like in our household. This was not acceptable to him."
Mr. SanSoucie is now an out gay man, per the Globe piece, and  feels Hernandez would be proud of him for talking about their relationship: "I really truly feel in my heart I got the thumbs-up from him."
  h/t: Towleroad