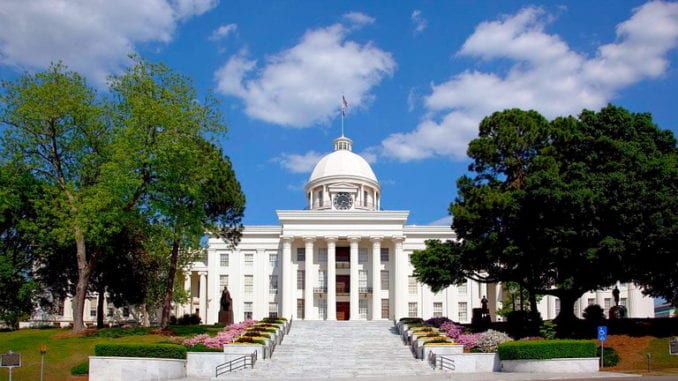 "Discrimination dressed up as a 'solution' to a fake problem"
The new Governor of Alabama has made good on previously made statements and signed into law a bill that allows discrimination against LGBTQ couples by agencies that don't agree with the concept of same sex parents.
The bill, HB24, which got the nod from the Alabama Senate in April, was signed by Governor Kay Ivey on Wednesday, May 3.
It will allow adoption agencies that claim religious beliefs mean they can't place children with gay couples, effectively stopping the state from refusing to license them.
"The elected legislature of this state overwhelmingly approved House Bill 24," said the Governor in a statement.
The bill's sponsor, GOP Senator Bill Hightower, believes the law will protect agencies and allow them to continue to place children in appropriate homes.
As pointed out in Pink News, Hightower did not realize the irony (or ignorance) of his statement and said: "The need for adoption is so high. We need to have every avenue available."
Many feel this is nothing more than blatant discrimination.
"It isn't in the best interest of the child to deny them a qualified loving family simply because that family doesn't share all the tendencies of the placing agency's faith," Senator Rodger Smitherman said.
"Plain and simple — H.B. 24 is discrimination dressed up as a 'solution' to a fake problem," said Eva Kendrick, HRC Alabama State Director.
"It creates an unnecessary hardship for potential LGBTQ adoptive or foster parents in Alabama and primarily harms the children looking for a loving home. It's unfortunate that leaders continue to push this bill, even as child welfare organizations, faith leaders and fair-minded Alabamians are standing up and calling this bill out for what it is: discrimination. We now ask Governor Kay Ivey to not sign into law this harmful bill."
There's only one gay legislator in Alabama, Representative Patricia Todd. She feels that those backing the legislation aren't very familiar with LGBTQ people or the unique issues they face.
"They make an assumption that all of us would be bad parents," said Todd.
The former Governor of Alabama, Robert Bentley, who stated that allowing gay people to marry would "undermine" civil society, stepped down in disgrace last month because of a torrid sex scandal.
h/t Pink News