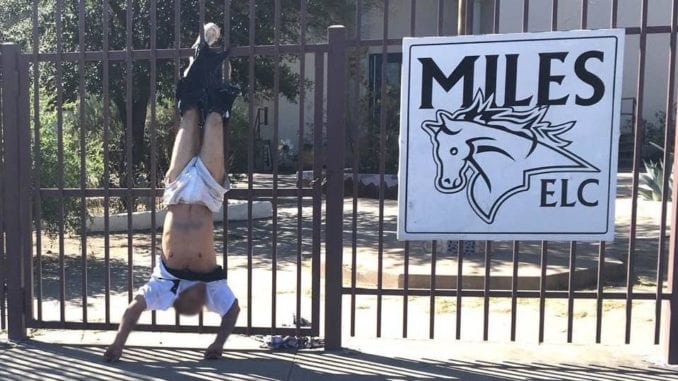 A man who tried to jump a spiked fence in Arizona may be regretting his actions. That's because he got snared by the fence and was found hanging upside down, leaving only his underwear to shield his private parts from the world.
Apparently, the incident happened last Friday, March 24, according to a communications official with the Tucson Unified School District.
Local news website, Tuscon News, reported the following:
"According to a safety report, a locksmith working at the school spotted a man trying to get into a couple of rooms. When the man saw the locksmith, he ran and tried to jump back over the school's spiked fence. The suspect didn't quite make the leap, his pants got caught and he was left hanging upside down with his underwear showing."
Passersbys, Jesse Sensibar and Kristin Woodall snapped photos of the man and then shared with others on Facebook. Apparently, Sensibar said he spotted the man while driving down the street and then made the decision to turn around and help.
But the spectacle of it all apparently caused a gapers block. Cops were swarming  at the scene by the time he returned. "By the time I got back around the block the cops were rolling up two cars deep."
The eye witnesses to the pansting said the gentleman was taken into custody by Tucson cops. School was out at the time of the incident due to Spring Break.
More: Man poops in Jacuzzi at gay resort 
Sensibar's complete post can be found below:
"One more reason not to jump fences in baggy pants. I saw this homie hanging around at the Miles School this morning when I was rolling eastbound on Broadway Avenue.
I was going to help him off the fence but by the time I got back around the block the cops were rolling up two cars deep. I don't know what his story was but it must not have been good enough, fifteen minutes later when I went back by the other direction going home he was cuffed up in the backseat. He smiled for the camera."
h/t: Logo