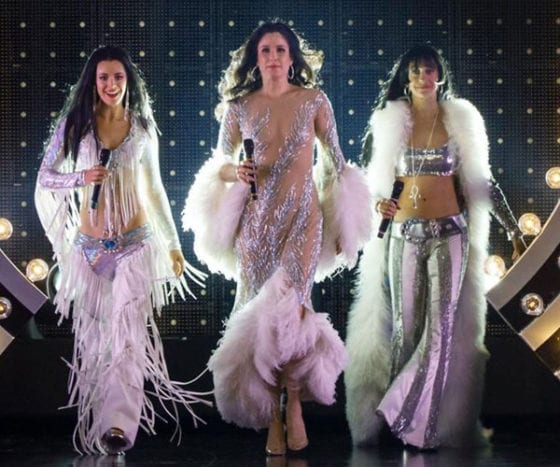 The Cher Show, the new Broadway-bound jukebox musical chronicling the life and career of superstar Cher, opened this week at Chicago's Oriental Theatre.
The musical stars Teal Wicks, Micaela Diamond, and Tony Award nominee Stephanie J. Block, who play the iconic actress/singer at three different stages in luminous life and career.
Tony nominee Jason Moore (Avenue Q) directs and the dances are handled by Tony Award-winner Christopher Gattelli (Newsies). Legendary fashion designer Bob Mackie, who has clothed Cher since 1967, is on costume duty and receiving rave reviews for his work.
Cher herself snuck into Chicago to take in the show and shared her review with the Chicago Tribune saying, "Some parts of it are really fabulous. We're going to work on the other parts. In many parts, it was much, much better than I thought it would be. And there were no parts where I wanted to gouge my eyes out."
"It needs work. I'm not supposed to say that but I don't care," she added.
Theater critics weighed in as well.
Miriam Di Nunzio, writing for the Chicago Sun Times: What emerges from "The Cher Show" is the portrait of an artist – from an insecure teenager who started her career worshipping at the feet of Sonny Bono, to one who gradually and out of necessity emerged as a fiercely independent and strong woman, who realized she was and is second to none. Cher may have sung "All I Ever Need Is You" alongside her beloved "Son," but truth is, she had all she needed to succeed, deep down inside her. There may not have been a Cher had there not first been a Sonny & Cher. Sonny made a brand out of Cher, but she was born a powerhouse. "The Cher Show" reminds us why America fell in love with the dynamic duo. And why so many will always believe in Cher.
Steven Oxman for Variety: The real star of the show, though, turns out not to be the stars of the show, nor the music, but Bob Mackie's costumes (he is both the show's designer and a character), many simply the fantastic fashions he created for Cher throughout her career. They inject needed drama and flash and performative excitement, and generate by far the biggest audience reaction when carefully revealed by director Jason Moore.
The supporting cast include Tony Award nominees Michael Berresse as "Mackie," Jarrod Spector as "Sonny Bono, and Emily Skinner as Cher's mother, "Georgia Holt."
The production runs through July 15 at the Oriental Theatre in Chicago with Broadway performances beginning November 1 at the Neil Simon Theatre and an official opening night December 3.
Jukebox musicals, based on the catalog of a popular artist, have been hits and misses on the Great White Way.
While Mamma Mia (Abba), Jersey Boys (The Four Seasons), and Beautiful (Carole King) have done bank at the Broadway box office, other shows like Good Vibrations (The Beach Boys), Escape to Margaritaville (Jimmy Buffett) and Lennon (John Lennon) found little love and closed fairly quickly.
We'll see how The Cher Show does come November.