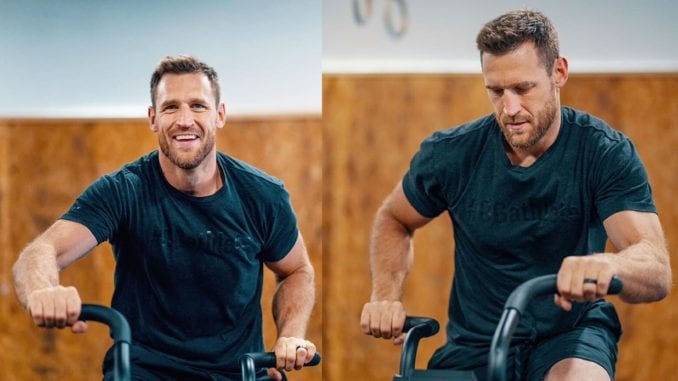 Brooks Laich's Sexuality?
Brooks Laich says he wants to explore his sexuality in the New Year.
We've seen it time and time again. The New Year brings resolutions of change and deeper understanding from many people. From hikes in gym memberships to today's' heightened dating app usage. But for one man, the New Year means it's time to understand himself and his sexual desires a little better.
Last year, dancer and choreographer Julianne Hough came out as "not straight." The reality show personality, known mostly for her work on Dancing With The Stars and America's Got Talent, shared that just because she married a man doesn't mean that she is straight. And now, it appears that she's not the only one in the relationship who sees her sexuality as dynamic.
Hough's husband Brooks Laich recently released a picture on social media which implied that he wants to know more about his own levels of intimacy and sexuality. Specifically, the pictures showed a list of goals for 2020. For the line asking Laich what he wished to learn in the new year, Laich wrote, "More about intimacy and my sexuality."
The 36-year-old hockey player then expanded on this image in a separate Instagram post. In that post, he wrote:
"As the new year inches closer, I'm doing some reflecting, and some looking ahead. I'm always working on becoming a better man, a better version of me, and it always starts with a vision of who that person is. Knowing where I am, and where I want to go, are equally important."
Laich then went on to say that he hopes his words will bring comfort and a feeling of support to others who are going on a similar journey. He says this because it was the before mentioned announcement by his wife that made him think about sexuality and intimacy more intensely.
As Hough said in a Women's Health interview, "I [told him], 'You know I'm not straight, right?' And he was like, 'I'm sorry, what?' I was like, 'I'm not. But I choose to be with you."
She then added, "The more I dropped into my most authentic self, the more attracted he was to me. Now we have a more intimate relationship."
Hough also added that the couple have seeked the help of a sex educator to create "erotic blueprints."
"When I took the test, I realized that there were certain things that gave me connection and intimacy that were different than what gave Brooks connection and intimacy," Hough said. "By almost learning each other's language — sort of like love languages — it was almost like a menu of how we could please each other sexually, but also intimately."
For Laich, his wife's coming out opened many new doors of thought. And now he hopes to share that perspective with other men.
"I spent some time thinking about [intimacy], and I was confused about it," Laich explained in an interview with AskMen. "I thought I had an idea of what it was, and then my wife really opened it up and challenged me on it … I was blown away by what she said."
So yes, Brooks Laich is looking to expand his sexuality this coming year. But really, he's doing it to better understand himself and his own sexual needs. And that something to both admire and mimic in our own lives.