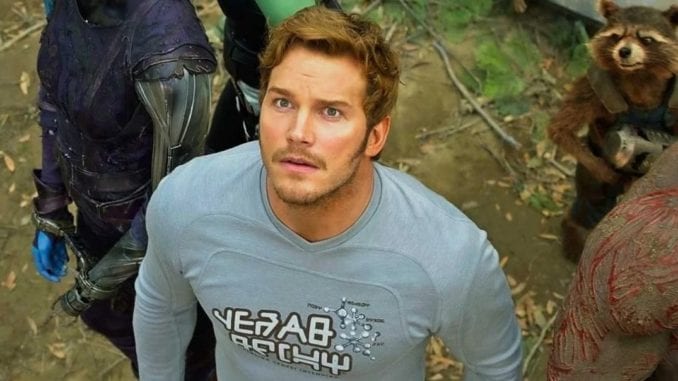 Chris Pratt Fun Facts
Ever since he found his way onto the sets of Everwood, The O.C., and Parks and Recreation, people have loved Chris Pratt. But, it wasn't until around 2014 when he became Star-Lord for Guardians of the Galaxy that he became a true A-list Star.
If you're a fan of this talented and down-to-Earth guy and want to learn a little bit more about him, we've got you covered. Here's a list of 10 facts about him that might just surprise you.
Gay Pop File: Chris Pratt
Birthday: June 21, 1970. Virginia, Minnesota
Height: 6'2
Eye Color: Brown Hazel
Body Type:  Athletic
Zodiac: Gemini
1. Former Wrestler
Thought he was born in Minnesota, Pratt and his family eventually moved to Lake Stevens, Washington. It was there that Pratt grew up and became and star athlete in school. Pratt played in football, track and wrestling in high school. He even competed in wrestling state championships, and once came in fifth place.
2. Was Nominated Class Clown in High School
Chris Pratt wasn't just a star athlete; he was also popular with the other students in his school. He was so popular that he was voted class clown, and he even gave a graduation speech.
3. He Was Homeless Once
Sadly, once he graduated things got hard for Chris. He even got to the point that he had to live out of his van. He would then drive around and sell coupons door-to-door.
4. Used To Be A Stripper
If you like Channing Tatum and Magic Mike, you might like the idea that Chris started out just like them.
That's right, Chris tried his hand at stripping too, but sadly he wasn't that good at it. He admitted that he would only make about $40 each time he took his clothes off.
5. Was Discovered While Working At Bubba Gump Shrimp in Hawaii
That's right, Chris Pratt's big break was when he was serving shrimp in Hawaii. Director Rae Dawn Chong found Pratt when he waited on her, and she immediately decided to cast him in her film "Cursed 3."
6. Married to Anna Faris
But Chris's real luck was when he met the love of his life, Anna Faris. He and the "Scary Movie" star met while filming "Take Me Home Tonight." They then got married in Indonesia in 2009, and later had a son named Jack in 2012.
7. Collects Dead Bugs With His Wife
And it seems he and Anna connected over collecting bugs as a hobby. Other hobbies that Chris enjoys include fly fishing, hunting, snowboarding and working on cars.
8. Has Mixed Ancestry
Chris Pratt's look changes constantly depending on the role that he's preparing for, and it seems his genes are just as crazy. Pratt's ancestry has traces of Norwegian, English, Swiss-German and French-Canadian ancestry. And, connected to his German ancestry is the fact that he learned German in school and is still fluent today.
9. He's An Artist
As if being an athlete and actor wasn't enough to surprise you, Chris Prat also has a love of other arts. He can sing, and has for his Saturday Night Live appearances, he can play the guitar, and he can even paint. There's even a mural in a restaurant in Washington that he did for his friend whose family owns the place.
10. Great At Improving
And in tune with Chirs Pratt's love to surprise, it seems he's a great improvisor. Many funny and iconic scenes from his work were actually improvised.
For instance, there's a scene in Parks and Rec when Amy Poehler's character walks in on a naked Pratt. What Poehler didn't know was that Pratt had taken off the nude underwear he was supposed to be wearing.
Other examples are the sudden kiss between him and Dallas Howard in Jurassic World (see our film review), and the Ball Drop in Guardians of the Galaxy.