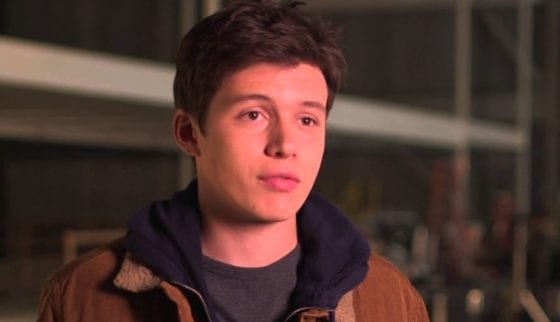 Nick Robinson facts
While Alien Covenant may have gotten the first-place spot in this past weekend's box office, smaller indie film Everything, Everything was a modest success as well.
The film, which is about a sickly teenager who wants to explore the outside and meets a cute boy who "shows [her] the world." Stars a small but familiar face as the male lead.
Nick Robinson is not new to Hollywood, but this is one of his first big breaks as a movie star. This actor is steady rising in the ranks, so to help you get to him a little bit more before he truly soars, here's a list of 7 facts about Nick.
Pop File: Nick Robinson
Birthday: March 22, 1995. Seattle, Washington
Height: 6'2
Eye Color: Brown
Body Type: Athletic
Zodiac: Aries
1. Might Be A Smoker
Fans believe that Nick Robinson is, or once was, a smoker. There are numerous photos of him either smoking or holding a cigarette in his hands. He hasn't publicly talked about this habit, but that might just be because he feels it's not worth talking about.
2. Started Off On Stage
When Nick decided that he wanted to be an actor, he started off by performing on stage. He started working with Seattle's ACT (A Contemporary Theatre) group and performed in shows like A Christmas Carol, and To Kill A Mockingbird.
3. Broadway Bound Turned Hollywood Bound
Around the age of 9, Nicks parents signed him up for a program called "Broadway Bound". It was through his connections in that program that Nick met the Hollywood talent scout Matt Casella.
Casella had this to say about Nick: "He's a real kid, with an extraordinary talent and gift, not to mention a smart, good natured, creative kid with a great smile. Nick is ready for LA."
4. Had Big Break on Melissa and Joey
Most people will recognize Nick from his four season stint on the ABC Family (now called Freeform) show Melissa and Joey.
Most fans of the show will first think of the two titular characters played by the long loved Melissa Joan Hart and Joey Lawerence. But, Nick also was a starring role in the series as Hart's nephew Ryder.
This was Nick Robinson's first big break in Hollywood, and it would leave the way for more major work to come.
5. He Was In Jurrassic World
That's right, if you saw Nick Robinson's face and thought, "Where do I know him from?" and the Melissa and Joey fact didn't ring a bell, well you probably know him from Jurrassic World.
Again, it seems that viewers were distracted by the bigger star in the film, the wonderful Chris Pratt, but his time on the film is just another notch on his belt.
Who knows, soon it might be Nick who's overshadowing other actors.
6. He Didn't Have Social Media (For A Moment)
While Nick Robinson isn't reclusive, he seems to also like his privacy.  There was a brief moment when he deleted all of his social media in order to take a break from all of the public attention.
That said, his Instagram and Twitter accounts went right back up as soon as he got some higher paid roles. The pains of being a star.
7. He Hangs Out With Hot Celebs (At Fashion Week)
That's right, he may not be a shining star in the internet's eyes (yet), but he sure does hang out with people the internet loves to talk about. And at pretty high profile places too.
Nick was seen hanging out with Colton Hayes and Brenton Thwaites at the front row of a Louis Vuitton runway show during this January's Paris Fashion Week.