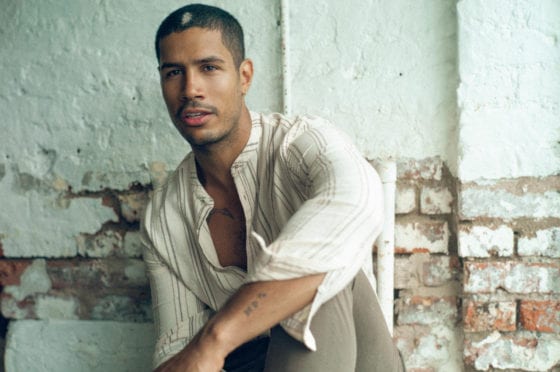 Chuku Modu – A Closer Look
Recently, I became aware of actor Chuku Modu after watching several episodes of "The 100" (final season). He plays the part of Dr. Gabriel Santiago. I think what stood out to me was this actor's stunning looks, coupled with his stellar acting abilities.
Because I know visitors to Men's Variety like learning about different entertainers, I decided to do some research and write up a quick "fact file" on this rising star.
Surprisingly, Chuku has some impressive credits under his belt, including several short films. I have a strong feeling that over the course of time, we are going to be seeing more of Chuku as the need for young, talented, multi-ethnic actors increases.
And so, without further ado, here's seven facts on Chuku Modu you might now know.
POP FILE: CHUKU MODU
Birthday: June 19, 1990, London England
Height: 6'4
Eye Color: Brown
Zodiac Sign: Gemini Man
Shoe Size: 15 Wide (Rumor)
1. Multi-Ethnic Background
Many people want to know Chuku's ethnic background. In looking at the research, he was born to a Nigerian-German father and a mom who is Anglo-Irish.
2. Athletic
In looking at his past, Chuku is athletic. A tell-tale sign is his physique. Scrolling through his Instagram account, it is obvious he likes to spend time in the gym and outdoors.
His official bio on IMDb shows that he took an early interest in sports at a young age, including boxing.
3. Formally Trained
Chuku's educational background includes attending the Richmond Drama School in North Yorkshire, England.
Related: 5 facts on Johnny Kane
Bear in mind this is one of the best known, oldest institutions of learning on the planet, with its beginnings in the middle-1300's.
4. Me Before You
In 2016, his acting career really took off when he landed a part in the movie, Me Before You, starring Emilia Clarke, Sam Claflin and several other well-known actors. Chuku played the part of Mauritian Waiter.
5. Short Gay Movie
A really cool part of Chuku's background is his role in the short-film, Heavyweight. Playing the part of Paris, he is a boxer, working through an environment of hyper-masculinity where same sex attractions are a big no-no.
6. Game of Thrones Actor
Another notable part of this actor's work is his role on the smash-hit series, Game of Thrones. In 2016, he appeared on three episodes and played the part of Aggo.
7. Good Doctor Actor
The final acting credit that I'll mention is his role as Dr. Jared Kalu on the series, The Good Doctor. Yep, that's right, he had a main role on this show in seasons 1-2 (2017-2018).
Wrap Up
Chuku Modu is an extremely talented and versatile actor who has a strong presence on camera. I have no doubt that in the years to come, we will be seeing more of him.
Sometime in the near future, he will be appearing in new series Émigré as Jarrel. I suppose we'll be hearing more about that soon!