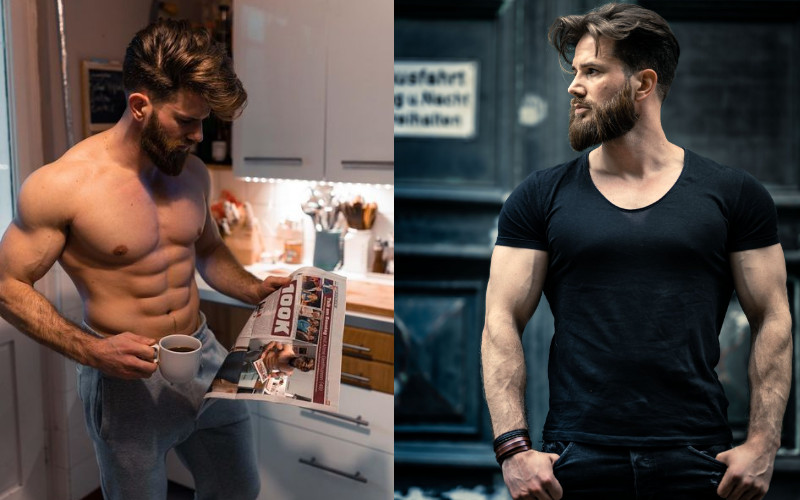 Dan Jorgan – A Closer Look
Dan Juergen is a 33 year old social media star whose been heating up Instagram since 2015. One look at Dan Juergen and you can tell he puts in a lot of work at the gym. He's got a well-balanced, heavyset physique, well-groomed hair and an eye for what styles compliment his body.
Fashion is a big part of Dan's online content. He models regularly and wears a lot of different styles. His dominant vibe is Viking, but its not the only look that he can pull off with ease. Dan models outerwear, fitness apparel, watches, bags, you name it. One of his favorite looks is a black turtleneck with fitted trousers.
Dan knows a thing or two about photography. He does drone photography in stunning outdoor settings and takes the time to make sure his lighting and camera shots represent him well on Instagram. Dan takes content creation seriously and presents himself as a consummate professional.
You'd probably think that Dan Juergen has a professional photographer following him around everywhere that he goes, but that's not the case. Obviously, he does some professional modeling, but there are times when Dan admits to doing some remote-control selfie photography.
Dan Juergen's Fitness Motivation
Dan lifts weights and runs outdoors. One of Dan Juergen's physical strengths is his amazing core. He has the six-pack abs, sure. But he also has rocky shoulders, traps, and well-toned obliques. He's clearly not afraid of a little extra body fat percentage around the waist either. He's both bulky and toned. Woof!
In an Instagram post, Dan credited Arnold Schwarzenegger as an important inspiration for him as a teenager. He was impressed by Arnold's physique, but really liked his charisma and fitness-first lifestyle. At the age of 19, Dan started to get serious about his personal fitness.
Dan Juergen is a Thinker
Dan Juergen's isn't your typical jock – all brawn and no brains. He's got a MSc in mechanical engineering. In 2014 he spent half a year studying mechanical engineering in Shanghai at Tongji University. From the frequency and success of his social media posts, Dan might not be putting that degree in mechanical engineering into much use these days.
Most people drool over Dan Juergen's insane body, but did you know that he's also an artist. Dan enjoys doing hand-drawn sketches in pencil. On some of his artwork you'll notice a faded brown circle in one of the corners of the sketchbook.
It's become almost like Dan's signature. He likes to sketch while drinking coffee and those circles come from his coffee mug. Dan loves coffee. He's always sporting a mug in his Instagram photos. He also enjoys a glass of red wine when dining out at a nice restaurant.
Dan Juergen Lumberjack Vibes
Dan's definitely got this lumberjack outdoorsman sexy vibe about him. Shirtless in the wilderness with tan boots and he'll make you swoon. "The only thing you can do wrong when hiking, is not doing it." Dan Juergen.
Dan prefers the gym, but due to COVID-19 restrictions he's found that wilderness workouts are a keyway to keep up his fitness routine. There are some beautiful patches of wilderness in Cologne, Germany where Dan currently lives. Here he is banging out a standard gym routine in the great outdoors.
Dan Juergen Can Be Fancy
Dan's beard game is on point. He wears his beard full but always keeps it manicured and tapered. I wonder what beard kit he uses to maintain that full, lustrous look? Dan likes cars, too. He used to work at Porsche a few years ago and fell in love with the Porsche 918 Spyder. He's got expensive taste and that's his favorite car.
Dan Juergen's star is certainly rising. Keep an eye on Dan Juergen's Instagram. His popularity isn't astronomical yet but more people will be inevitably drawn to his attention to detail and the amazingly sculpted figure. Who knows, he could be the next Chris Hemsworth. He's definitely got the physique of a Viking demigod.