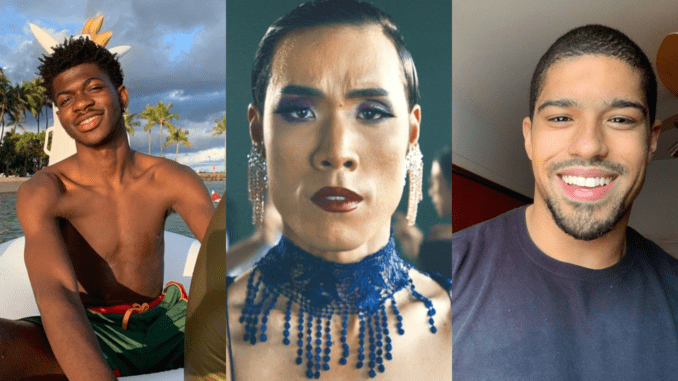 Coming Out In 2019
Yesterday was National Coming Out Day. It's a day when LGBTQ people celebrate coming out, the lives they have lived since then, and inspire others to live out loud and proud themselves. That said, coming out is still very much a personal experience. Everyone is entitled to come out whenever they need to or feel like. No one can ever tell you when to come out.
With that in mind, October 11 isn't the only time that people come out. In fact, several male actors, singers, internet personalities, politicians, athletes, and more have come out throughout the year. And now, we'll share a list of some notable men who came out in 2019 (so far).
Tyler Blackburn
Back in April, the Pretty Little Liars star came out as bisexual.
As the actor who now plays Sgt. Alex Manes on Rosewell: New Mexico told The Advocate, "I'm queer. I've identified as bisexual since a teenager."
He then spoke on playing a queer character on tv.
"I knew this guy in and out. I understood feeling oppressed. I understood having issues with my father [wanting to feel] accepted by him. I understood wanting something but being afraid to have it. I understood self-doubt."
Everton Blair
In time for National Coming Out Day, Everton Blair, a Board of Education member for Gwinnett County, Georgia, came out as gay. He also became the first Black AND openly gay member of the board.
"On Coming Out Day, I'm choosing to invite people into this very important aspect of who I am," he shared on Instagram. "And my hope is just that all the young people see themselves and see the possibilities of who they can be. Really feel loved and valued. Knowing that we're just grown-up young people. And many of the experiences that I had growing up, I didn't really understand that. I didn't see that there were people who saw themselves in us. And in whom we could see ourselves."
Anthony Bowens
While he came out as bisexual back in 2017, Bowens came out as gay at the start of this year.
As he said on Instagram, "Just about two years ago I came out as bisexual which was truly how I viewed myself at the time. However, over the last 6 months or so I've started identify less and less with that label to the point where it doesn't feel like it's 'me' anymore."
Andy Brennan
Australian soccer star Andy Brennan came out in May and became the first former A-League player to come out as gay.
"It's taken me years to get comfortable saying this—I'm gay," he wrote on Instagram. "I was scared it would affect my friendships, my teammates, and my family."
He continued:
"But the support of the people around me has been so great and helped me get to the final step; being completely open. Being open is the best way for me to feel most comfortable and be myself. So…carry on!"
https://www.instagram.com/p/B22fgUPgWqJ/
Juan Castano
What/If star Juan Castano also came out in May, though this time in an interview with NewNowNext.
"I would say that for the majority of my life I identified as straight, but as I got older I think my sexual preference has gotten more fluid," Castano told the publication. "I am, as my friends say, on the spectrum."
Kerron Clement
Gold Medal Olympic track runner Kerron Clement came out as gay yesterday for National Coming Out Day. Clement did so through an interview with Out Magazine and said that he was "tired of loving in the dark."
"I have been through what a lot of people have been through which is being afraid of being who you are," he said. "I struggled with my sexuality for 17 years. Over time, as you get older, you care less. Now it's time to just be yourself and be free. That's what I've become, free."
Michael D. Cohen
Nickelodeon star Michael D. Cohen came out as a transgender man in a May interview with TIME. At the time, the Henry Danger actor shared that his being transgender and sharing it wasn't about sharing an agenda but about being authentically himself.
"[People] think this has to do with pushing an agenda on kids and it doesn't," he said about deciding to come out. "What it does is send a message to kids that whoever they are, however they identify, that's celebrated and valued and okay."
Woody Cook
British model, and son of DJ Fatboy Slim, Woody Cook came out as bisexual back in January through an interview with Boys and Girls magazine.
"…I'm bisexual. I'm a bit of a free thinker. I don't care what gender someone is. I'm quite laid back about most things in life, including my sexual orientation," Cook said when asked by Boys by Girls to explain who he is to people who don't know him.
"It's something I've known for three years," Cook explained. "I always felt, growing up, that I had all these thoughts and I just shook it off."
Dan Howell
Another famous Brit who came out this year is Dan Howell. The longtime YouTuber came out as gay in June through a Pride Month video.
"This really feels like a new chapter for me," he wrote in a tweet. "I doubted all my life that the world would change to be a place I could personally feel open and accepted and that's because of all of you. Thank you."
Connor Jessup
American Crime actor Connor Jessup also came out in June. But for Jessup, Instagram was his social media of choice.
"I don't want to be complicit, even peripherally, in the idea that being gay is a problem to be solved or hushed. I'm grateful to be gay. Queerness is a solution," Jessup wrote.
Phil Lester
After his comedic partner Dan Howell came out, fellow YouTuber Phil Lester decided to come out at the end of June.
"There is something quite big I've been meaning to tell you guys," says the UK comedian in his vlog. "I'm gay, and depending on who you are, you might've known, or it could've been a surprise… surprise! That's how I should've come out to my parents. Even if you don't totally relate to my story, you might learn something or change your view, or just feel like you're not alone with something you went through. I'm gay! It's great! I'm happy! And hopefully you're happy for me too. If not, I hope you have a think about why you want a fellow human to be unhappy. And not true to who they are. And if that is a healthy mindset to have."
https://www.instagram.com/p/B3TVoEdlfwT/
Lil Nas X
The music man of the year also came out earlier this year. After Lil Nas X saw his song "Old Town Road" became the hit of the year, he decided to come out in June.
"some of y'all already know, some of y'all don't care, some of y'all not gone fwm no more. but before this month ends i want y'all to listen closely to c7osure," the rapper tweeted.
some of y'all already know, some of y'all don't care, some of y'all not gone fwm no more. but before this month ends i want y'all to listen closely to c7osure. 🌈🤩✨ pic.twitter.com/O9krBLllqQ

— MONTERO 🦋 (@LilNasX) June 30, 2019
The lyrics to the song speak of passing on regret in his old age and being ready to cross boundaries set by himself.
Then to follow that up, the rapper tweeted an image of a rainbow-colored building. He captioned the tweet, "Deadass thought I made it obvious."
Matt Pacifici
Former Major League Soccer player Matt Pacifici came out through an Instagram post back in January. He did so in order to celebrate his boyfriend.
"When you're in a relationship that makes you happy, and on social media you see people posting about their girlfriends, it feels weird not being a part of that," Pacifici explainedin an interview with Outsports about the cute AF Insta post. "You want them to know. This relationship is the one that makes me the most happy ever in my life."
Benn Platt
The Broadway and Netflix star decided to come out along with the drop of his music video to "Ease My Mind." He then spoke about making his gay-centric music in a February interview with People Magazine:
"When we were conceptualizing this sort of loose narrative that we wanted to connect through the videos, there was not really any moment where we had to decide it should be about me and a man as opposed to anything else," Platt said. "Because it was just, 'We're going to represent what this was inspired by,' which was this man that I was in love with. So it was really a no-brainer."
Ryan Russell
Freelance NFL football player Ryan Russell, who's played with the Dallas Cowboys and Tampa Bay Buccaneers, came out as bisexual in an August essay for ESPN.
"Withholding information is a form of deceit," he wrote. "And I want the next part of my career—and life—steeped in trust and honesty," he wrote about the decision to finally come out publicly. "During the season you spend more time with your team than with your own family; truth and honesty are the cornerstones of a winning culture. My truth is that I'm a talented football player, a damn good writer, a loving son, an overbearing brother, a caring friend, a loyal lover, and a bisexual man."
Hi y'all. So. I was on Instagram and I looked at my direct messages and it turned out someone was trying to rope me in to some (pretty creaky) homophobic banter. Huh! So, for clarity, here's a pic of me and the boyf. Just to, y'know… straighten that one out. As it were. ✌🏼 pic.twitter.com/c7dZpfPfIy

— Ryan Sampson (@MrRyanSampson) February 20, 2019
Ryan Sampson
British TV star Ryan Sampson not only came out through Twitter in February, but he gave us a peek at his boyfriend. Cute!
"I was on Instagram and I looked at my direct messages and it turned out someone was trying to rope me in to some (pretty creaky) homophobic banter," the actor, who is best known for playing Grumio on the ITV series Plebs, said in his tweet. "Huh! So, for clarity, here's a pic of me and the boyf. Just to, y'know…straighten that one out. As it were."
Eugene Lee Yang
The YouTuber, film director, and actor who rose to fame through Buzzfeed's Try Guys publicly came out as gay in June. While the internet personality had started to open up and talk about his sexual orientation in the past few years, he felt compelled to come out publicly after seeing young fans looking up to him as a role model.
In a follow-up video, Eugene then talked about growing up in an Asian-American family in the South and how that taught him to be silent about such issues.
"There's a lot of really personal reasons why I haven't explicitly come out. We hold things back because we're very scared that there's going to be repercussions," said the actor and director in the below video. "I'm not even really comfortable talking about it right now, but I think I'll be able to open up more about it later. But I just know that this is the time. I think sometimes you just know."
Who Else? Who Next?
These are just some of the many people who came out as LGBTQ in 2019. And certainly, more will join them before the year ends. And that's certainly something to celebrate.