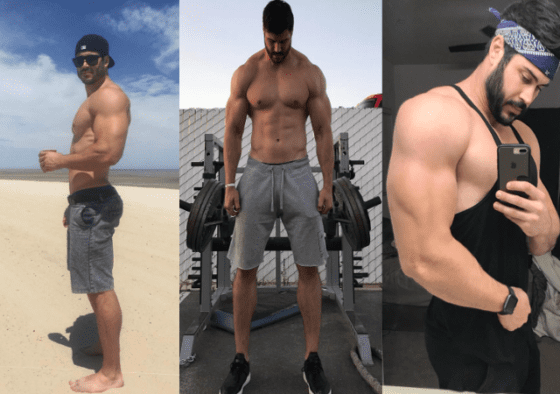 Tree Man! Come Save Me!
Looking for your next internet obsession?
Look no further, because Tree Man has arrived.
The Tree Man craze started quickly, and now it's certainly hit and its hit like a tidal wave.
But who's the person at the very center of the storm?
Danny Jones is Tree Man. He's a personal trainer from Southern Carolina and he's suddenly become an internet celebrity.
At 6 feet and 7 inches, Jones is TALL, but adding to that the man is also incredibly jacked. He's got muscles for days and fans that stretch for longer.
The crazy over Danny Jones started just a couple days ago. Gay Star News reports that it began with a tweet that discovered the man and quickly gained traction before completely running off the rails.
This not a man, this a tree. pic.twitter.com/0rU95oBbxh
— la loba (@vickto_willy) May 29, 2017
From then on tehre was no stopping the ongoing storm of followers willing to talk about, salivate over, and obsess over Danny Jones and his body.
In just a week his follower count has skyrocketed up to over 648 thousand accounts.
Sadly, while people all obsess over Jones and his body, he'll snuggling up to his already set girlfriend.
But don't worry, we have more information to make you yearn and cry yourself to sleep for him, because not only is he hot but he's also a good person.
For instance, he once worked as a firefighter (some of you are probably groaning right now), and even trained to be an emergency response medical technician.
But, right now he has focuses more on personal training, cause with a body like that he doesn't need business cards.
Adding to that, he also has an upbeat personality that's perfect for inspiring others to change. In fact, he may even have a little bit of a life coach in him.
On his website, he even used his own personal experience as being overweight to inspire others to exercise.
'I am a firm believer that ANYONE can make the same change that I did and become the best version of themselves. All it takes is the initial thought and desire to make the change and a plan to put that change into action.'
If you want a taste of more Tree Man, check out these photos down below or head over to his Instagram account.
And, check out these fans going crazy over him.
— taint impala (@acrzixta) May 30, 2017
— ƵΔИ€ (@BeardyDavis) May 30, 2017