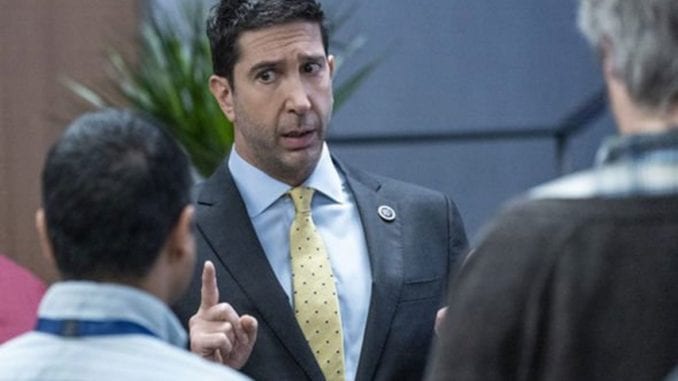 David Schwimmer On Parenting
What are Ross Geller's thoughts on Fatherhood? Honestly, we'd rather not know. But, David Schwimmer? Sure, we'll give it a listen.
Now that Friends is officially getting a reunion (though, on HBO Max), we are surely about to get a bunch of new headlines and new stories about the iconic cast. After all, there's gonna be lots of hype leading up to the reunion release. But until then, the stars have other projects to work on. For instance, David Schwimmer has British tv show Intelligence.
To promote that show, Schwimmer appeared on the Table Manners podcast with Jessie Ware. While on the podcast, Schwimmer talked about his relationship with his nine-year-old daughter. With the show being one where guests eat as they talk, the conversation naturally turned to food. That's when Schwimmer brought up the fact that his daughter is a dedicated vegetarian.
"She's a self-declared vegetarian," said Schwimmer. "When she was four or five, she just said 'I'm a vegetarian'. I think she had been somewhere with her mum, where they were talking about vegetarianism and animal rights and I think it just hit her."
More: Should You Get Into Podcasts?
Now, the actor says that he buys and cooks his daughter vegan food like those classic vegan nuggets.
Or as he specifically added, "Also, I think she just developed a taste for it. She never really enjoyed eggs. Her weakness, still today, is chicken nuggets."
But that's not the only topic he brought up about his life as a father. In addition, he shared that he has very intimate and in-depth conversations with her on a series of topics. One specific top that Schwimmer brought up was religion. More specifically, Schwimmer, who is Jewish, says he would never impose a bat mitzvah on his daughter if she didn't want it. He'd rather she made her own decision about religion like she did with vegetarianism.
"I wouldn't insist on her doing that without her understanding what it is. If she wants it as a grown woman, an adult woman, once she's educated and informed, it's her decision and that's how it should be."
But that's enough about parenthood and being a father. What does David Schwimmer think of Donald Trump or The Great British Bakeoff? If you want to listen to the full podcast, you can listen to it on Spotify or wherever else you listen to podcasts.