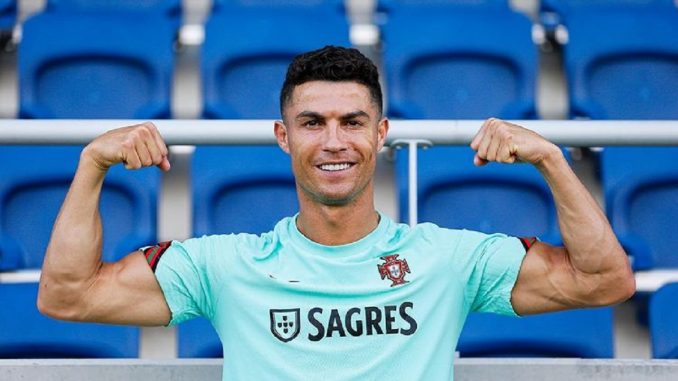 There's been a lot of talk lately about whether or not Cristiano Ronaldo is leaving Real Madrid. That has sparked a lot of talk about the athlete. From his career in soccer (or football, depending on where you are) to stuff about his personal life. Could the athlete really be considering leaving Madrid? Why did he move there in the first place? What drove him into the sport, and more.
To answer some of those questions and more, here is a list of 7 facts about soccer star Cristiano Ronaldo.
Pop File: Cristiano Ronaldo dos Santos Aveiro
Birthdate: February 5, 1985
Birthplace: Funchal, Portugal
Zodiac Sign: Aquarius
Height: 6 feet 2 inches
Weight: 182.9 pounds (83 kg)
1. He's Named After A U.S. President
First, we have to start with his humble beginnings. Cristiano Ronaldo was born into a family of four and is the youngest child. Ronaldo's parents are gardener Jose and cook/cleaner Dolores Maria.  Not everything was perfect in his family, however, as Jose was a heavy drinker and died when he was 50. As for his mother, Cristiano has a great love and respect for her. In fact, her love for the city of Madrid is why Ronaldo eventually fell for the location.
One other fun fact about his family is that Cristiano's father was a big fan of Ronald Reagan. In fact, Cristiano, full name Cristiano Ronaldo dos Santos Aveiro, was named after the former U.S. president.
2. Little Bee
While growing up, Cristiano Ronaldo had several nicknames. This includes being called "crybaby" and "little bee" when he was younger. The first name is because Ronaldo was not a fighter and initially could not deal with the aggressive often found on the pitch. Meanwhile, the second nickname came from the fact that Ronaldo was so fast when playing soccer.
"When he got home from school I'd tell him to do homework but he'd say he didn't have any. I'd be making dinner and he would jump out of the window and run off until late. He used to cry when he passed and his friends didn't score. People called him 'cry-baby' and 'little bee' because nobody could catch him," Cristiano's mother said, according to BoomsBeat.
Related: 8 Facts About NBA Legend LeBron James
3. He Was A Problem Child
While Ronaldo made school friends easily, he did not always get along with teachers. In fact, he ended up getting expelled when he was in middle school. At the age of 14, Ronaldo threw a chair at a teacher. This led to him getting expelled.
In a way, however, that expulsion was a stroke of luck and fate. It was at that point that Ronaldo's mother told him to focus his energy on soccer instead of causing trouble. And as you can see, he ended up following that advice.
4. An Act Of Kindness
Part of the reason Cristiano Ronaldo's mother suggested her child focus on sports is that he was clearly good at it. Even at a young age, the athlete showed promise for soccer.
"When he got the ball he went past two or three players. At the end of the game the players gathered around him, they knew he was a special kid," said his first coach, Paulo Cardoso, at Sporting Lisbon.
Then, it was a friend's kind act and sacrifice that skyrocketed the situation. Growing up, Ronaldo had a friend named Albert Fantrau who got admitted to a soccer academy. But, he ended up turning down the position and Ronaldo was instead invited to it. When he asked why Fantrau turned down the opportunity, his friend said, "You're better than me."
5. Poor Health And Donations
Despite being one of soccer's most successful and athletic athletes, Cristiano Ronaldo has health issues like everyone else. When he was 15-years-old, Ronaldo was diagnosed with a racing heart. While that could have ultimately ended his athletic career, Ronaldo was lucky enough to get the problem fixed. Thanks to surgery, life and sports continued for the teenager.
Since then, Cristiano Ronaldo has had an appreciation for supporting the medical field. In order to do that, the athlete donates blood regularly. This is part of why he doesn't have any tattoos. After all, Red Cross guidelines state that you shouldn't donate blood if you've gotten a tattoo within the last four months.
But that's not all, Ronaldo also donated his bone marrow to help his teammate Carlos Martins son.
6. He Has A Museum
Cristiano Ronaldo has made such a name for himself that people now study him. Fourth-year sociology students at the University of British Colombia Okanagan have the option to study the life and career of Cristiano Ronaldo. But they're not the only ones reading and learning more about the athlete. Funchal, Portugal, his birthplace, has a museum dedicated to the successful athlete. The museum is loaded with items from his life and career such as rare photos, trophies, and awards that he's won over the years.
Imagine have a museum dedicated to your life. Must be weird.
7. From Bachelor To Family Man
Lastly, we have to talk about his current home life. While Cristiano Ronaldo's long list of exes includes names like Paris Hilton and Kim Kardashian, the famous athlete eventually settled down and became a family man. Ronaldo is now the proud father of four and husband to Georgina Rodriguez.
Though, there is some gossip and rumor around Ronaldo's first-born child, Cristiano Jr. When he was born, gossip around Jr tried to figure out who the mother was. Some believed the mother was a surrogate. Others think she is a waitress that Ronaldo briefly dated. Despite that, Cristiano and Georgina are still happily married and Georgina is the happy mother of all four of their children. All talk other than that is merely bothering a happy family.