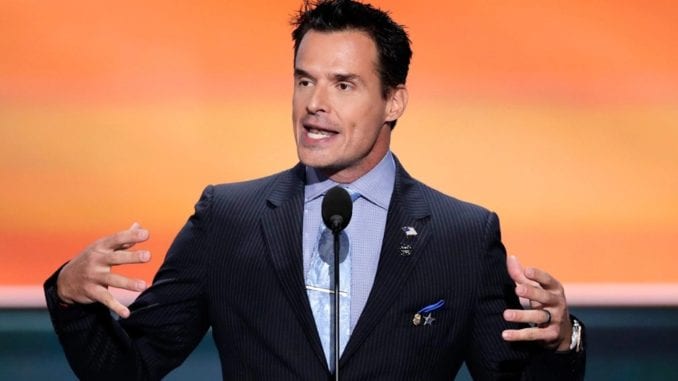 Talk about your past coming back to haunt you!  Antonio Sabato Jr, a former Calvin Klein model and actor, turned Republican congressional candidate in California's 26th District, is under fire for some risqué "gay" films he made in the past.
The controversial movies?  2003's "Testosterone", which features a fully nude Sabato and "Deadly Skies" from 2006, that includes simulated sex between Sabato and another man.
Interestingly, the other crap he's been in, including "Bad Girl Island" and "Balls to the Wall" as well as his stint as a spokesman for AnastasiaDate (basically a mail-order bride website) don't seem to bother the GOP.  Only the gay films.  Shocker!
Some conservatives in his district are saying these film roles disqualify Sabato, a staunch Trump supporter, from representing the GOP.
Included in this group, is a fellow Republican in the race, Ret. Air Force Maj. Jeffrey Burum, who called the movies "pornography".  He believes Sabato does not properly represent the family-friendly GOP and should end his campaign.
"His behavior is inconsistent with anything I would want from a congressional leader," said Burum.  "It's also inconsistent with a party which has always favored traditional family values, which do not include porn."
Current Sabato advisor and former President of the California Log Cabin Republicans, Charles Moran, has disputed the description of the films as pornographic and believes they are not an indication of his political capabilities.
"For a long time, gays have played straight, straights have played gays," said Moran.  "A good actor can do this, and many do.  Antonio Sabato Jr is no different."
The one-time "General Hospital" and "Melrose Place" actor echoed Moran's sentiment in an interview on "The Jesse Lee Paterson Show" on Thursday.
"That was a different time in my life, but as actors, we do roles that are pushing the envelope," Sabato explained.  "Everybody has done it.  We don't do every movie that we're proud of, it's just the way it is."
He continued, "It's just they're trying to pull all this stuff against me because when you're attacked as much as you can see with our president, it means you're doing something right. They're scared of me."
"Once I get in Congress in November, there's a lot of work to be done. We only have two years to get things done before the next election. So, I'm eager to do it. I have the energy and the ability to do it, and I'm going to do it for the American people. I can't wait."
Fasten your seatbelts folks, this promises to be a bumpy ride!