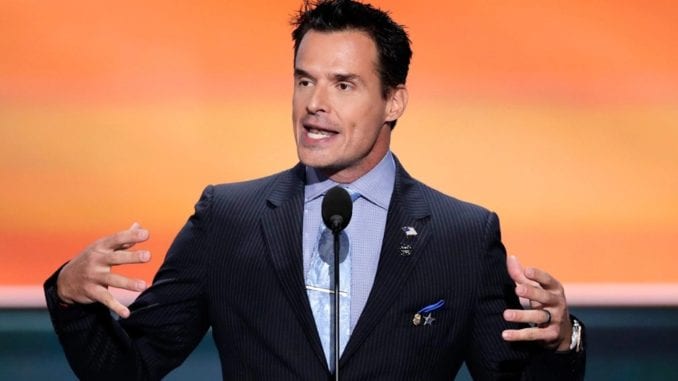 "He's excited. This is going to be a long campaign."
Apparently, Antonio Sabato Jr, strong backer of Donald J. Trump, has decided that it's time for him to cash in on his lame fame and run for U.S. Congress.
The Los Angeles Times is reporting that Sabato will be challenging Rep. Julia Brownley (D-Westlake Village), who currently represents the southern central coast and most of Ventura County, per documents that have been filed with the Federal Election Commission on Monday.
As reported in the LA Times:
"Sabato is a longtime actor best known for roles in "General Hospital" and "Melrose Place" and as a model for Calvin Klein underwear.
In recent years he has appeared in several reality television shows, including starring in "My Antonio," a VH1 contest for which women competed for his affection, and "Dancing With the Stars.
The 45-year-old was a vocal supporter of President Trump during the 2016 presidential campaign and spoke on his behalf at that year's Republican National Convention. In an interview at the time, he said that that then-President Obama was a Muslim, which is not true. Sabato said afterward that he was blacklisted by Hollywood producers because of his visible support for Trump."
We can't help but wonder if Sabato, one of the few actors who appeared on stage at Donald Trump's convention in 2016, will have a similar political belief system as Mr. Trump?
Here's a report from
The Daily Beast:
"Antonio did file this morning [to run in] the 26th congressional district," Moran confirmed to The Daily Beast over the phone on Monday afternoon. That seat is currently held by Democratic Rep. Julia Brownley.
Moran said he met "Antonio right around the time of the RNC convention," and that he knew Sabato's manager since high school. "His manager…wanted him to sit with someone more knowledgeable in the field [of politics]" to discuss getting serious about his political aspirations. According to Moran, the two sat down for the first time to discuss prospects in August, and have been in communication ever since. Moran is now set to be campaign spokesman.
"This culminated this week in him filing his papers with the FEC—as my client, we're still working on fine-tuning what our media rollout is gonna be," Moran said. "He's excited. This is going to be a long campaign."
Sabato and his rep did not immediately respond to The Daily Beast's requests for comment. But according to Moran, Sabato's platform will be "very much based on his personal interests," including the opioid crisis and drug addiction, tough-on-immigration-and-the-border stances, and veterans affairs.
The 45-year-old Sabáto has been a supporter and political ally of Trump's since at least April 2011, which was right around the time Trump started to gain currency in right-wing circles with his anti-Obama, racist birther crusade. "I am with ya pal @realDonaldTrump no matter what . #alltheway," he tweeted five years later in April 2016."
Is Scott Baio running next?
h/t: Joe My God