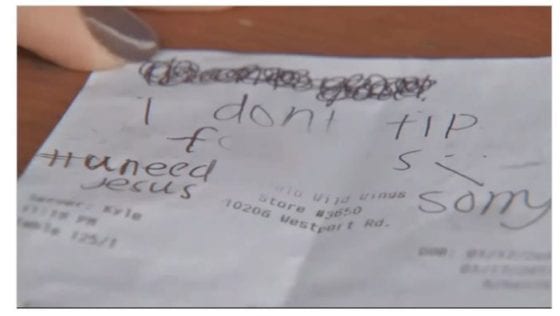 Instead of a tip, server was left message of hate
By: Conrad Braxton
Imagine being a waiter, trying to carve out a living by putting in long hours on your feet to serve food to others. Now imagine one of your customers decides that instead of leaving you a tip, it's better that you receive a message of hate.
That's exactly what happened to an employee in Louisville Kentucky.
Apparently, he was serving two young women who didn't like him. What's interesting is that Griffith thought they were nice, so he was stunned to discover the pair had not only declined to tip him but made it a point to leave the young server a nasty message of hate.
Kyle Griffith told his story to local television station, WDRB, sharing:
"To see that coming from someone so much younger than me, just the hate instilled within them, it hurt me very deeply," Griffith said. "It said 'Sorry I don't tip f*ggots,' and then said '#UNeedJesus. It just crushed me that someone could say something like that."
Related: Gay NY bartender left hateful car note
Griffith snapped a photo of the receipt and put on Facebook — with the customer's name blurred out. Soon, it started to go viral. But because someone reported it to Facebook as "offensive, the Social media giant removed it from his page.
WDRB 41 Louisville News
"I want to be able to tell everyone that this is not a lie, that this is truth. This is an everyday happening," he told a TV reporter with WDRB. "It's got to stop. The hate has to stop. There's no reason for it."
Apparently, the person who left the note now regrets her actions, leaving an apology on the now removed post.
"She did apologize and said that it was a joke and that it shouldn't have been a joke and that she felt bad for it," he said.
According to Griffith, his employer has been supportive. Buffalo Wild Wings also released a statement on Tuesday with a message of inclusion, emphasizing the importance for creating a welcoming environment for all.
"Because Buffalo Wild Wings is about creating a great guest experience, we feel strongly that our restaurant environment needs to be respectful in order to provide the experience that our guests and team members expect and deserve," says the chain.
h/t: LGBTQ Nation