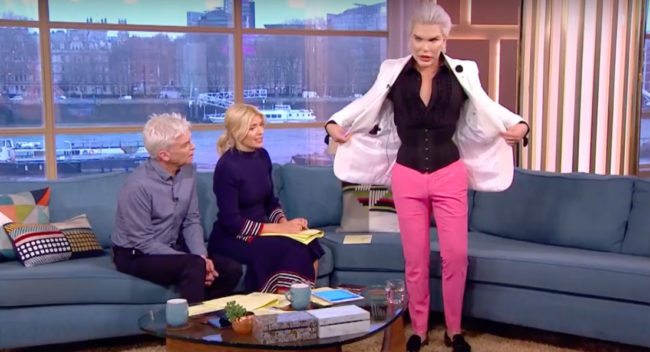 Four ribs removed to reduce waistline
Plastic surgery enthusiast Rodrigo Alves shocked viewers on ITV's This Morning by appearing on set with four floating ribs in a jar.
Apparently, the 34-year old underwent the operation two-weeks ago to have them removed.
As part of the show. Rodrigo showed off his new, 20-inch waistline to This Morning hosts Phillip Schofield and Holly Willoughby.
The Brazilian born television personality has become the first man in the world to undergo the rib removing procedure. He shared with viewers that felt like he'd been "Run over by a truck" during his recovery.
When asked why he decided to have such a drastic and dangerous procedure, Rodrigo said, "I had four ribs removed so I can do my blazers up without having to breathe in or have them altered."
His original plan was to have six ribs removed from his midsection but his doctors refused, saying the risks were too high. Instead, they agreed to remove the four "floating ribs".
Said Rodrigo, "It is dangerous to internal organs. My ribs that were the 11th and 12tth, they are the floating ribs there is not much use for them."
He then added: "I am the only man to have the procedure done. A few women have but they don't talk about it."
Hosts of the show suggested to Rodrigo that the money he spent would have been better used on psychotherapy as opposed to cosmetic procedures. In response, Rodrigo revealed he had done both.
"Well I am 34 years old, it has been a very long journey for me," he said. "I love the way I look. I love to stand out.
"Yes, there is contentment in my soul. Plastic surgery has changed my life. From water to wine," he said.
As part of the interview, Rodrigo then shared that he was dating three people – all at the same time.
In the past, Rodrigo has shared with followers his extensive experiences with plastic surgery.
In March of 2017, he flashed a faux six-pack on the beach and said the cost was north of $30,000. He has also had at least eight nose surgeries; operations that have left him struggling to breathe.