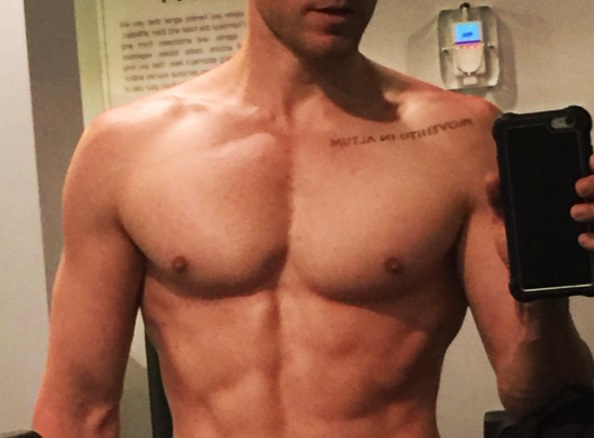 Jared Leto News
Jared Leto's band, Thirty Second to Mars,  recently released a brand new single, and the popular vocalist and actor decided the very best way to market his music was to get amazingly ripped!
As many of his followers know, Mr. Leto has been through a great deal in his acting career. For example, he famously lost 35 pounds for his role in Dallas Buyers Club. The last time we saw him he was in lithe, pale shape as the Joker in 2016's Suicide Squad.
Several days ago however, Leto showed off crazy progress at the gym. In one of his latest Instagram posts, he appears  just a neck-down chest and abs shot. It's obvious he's been working out a LOT since playing Mr. J.
He's asking followers to "caption" a revealing picture of his torso.
Fans are delighted to see that Leto is keeping in shape, but some wonder if the actor's rock-hard abs are in preparation for his next Joker role. The actor will be starring in Joker & Harley Quinn standalone that will pit the two Gotham villains against one another.
Reports suggest the film will be some type of "criminal love story," and Leto will reprise his role with Margot Robbie's Harley. There's no word on when the filming will start but Leto looks ready to get back into action whenever called for.
More: Here's how to look like Ryan Phillipe
Fans were introduced to Leto as Joker in the film Suicide Squad and its controversial reception has not dampened the actor's love of the clown. The actor spoke with On-Demand Entertainment about his DC part during a video game launch, and Leto shared that he loves the villain.
"I love the Joker. He's a great character and really fun character to play. But it's a big universe, and when you play the Joker, there's no ownership there," Leto said.
"You have the honor of holding the baton for a little while and then passing it off. There are other films that are in development and I'm excited to see what comes from them."
h/t: Comicbook.com
Photo Credit: Jared Leto's Instagram Page