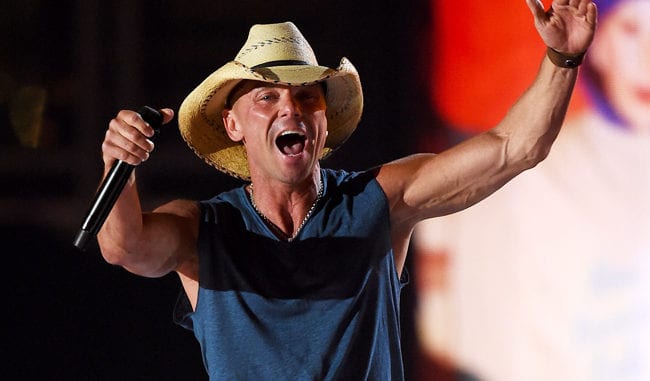 Kenny Chesney is apparently highly upset about gay rumors
Kenny Chesney gay rumors are nothing new. In fact, they've been around since 1980. But in recent days, the gay rumors have started to pick up bigtime because of comments Renee Zellweger made to the gay focused media outlet, The Advocate.
And because this blog is not above consulting tawdry gossip sources, such as The National Enquirer, we thought it might be kind of fun to share the latest chit-chat.
According to the October 10, 2016 edition of NE, Kenny Chesney is apparently shaking with anger. Here's the scoop:
"Country music stud Kenny Chesney is being dogged by rumors of a 'secret gay life!' screams the opening paragraph of the story.
The Enquirer piece goes on to share:
"The whispers resurfaced after his ex-wife, Renee Zellweger, talked about them in an interview published in a gay magazine!" The NE piece then quotes part of the Zellweger interview.
"It made me so mad that somehow people were using that as a way to be cruel," said Zellweger, who married Kenny Chesney back in 2005.
The two split four months after tying the knot. The official annulment papers reportedly cited "fraud" as the reason.
The NE story goes on to say that "insiders" are tattling that Mr. Chesney, 48, "was pretty pissed off" by Renee's comments.
"He's furious because Renee's non-denials have the rumors spreading like wildfire all over again!" chirps the source close to the country singer.
In the past, Kenny Chesney has strongly denied that he has same sex attractions, once boasting that he's bedded over 100 women. But as the years have gone on, the rumors persist.
Going by the NE story, there's a "close friendship" with an unnamed superstar football player as the "fraud" he was intimate with. Who that person may be remains a mystery.
"There are a lot of people who believed it was an arranged marriage," the NE's source shares. "Just to take the heat off the rumors."
The latest buzz on Mr. Chesney is that he's been involved in a relationship with Mary Nolan, the ex-girlfriend of NFL player Junior Seau. Sadly, Seau committed suicide in 2012.
The piece concludes with the following:
"But the singer – who is worth 225 million – said he'll never get married again. The Renee fiasco turned him off on the idea – once and for all," according to a pal.
—
Photo Credit: Billboard