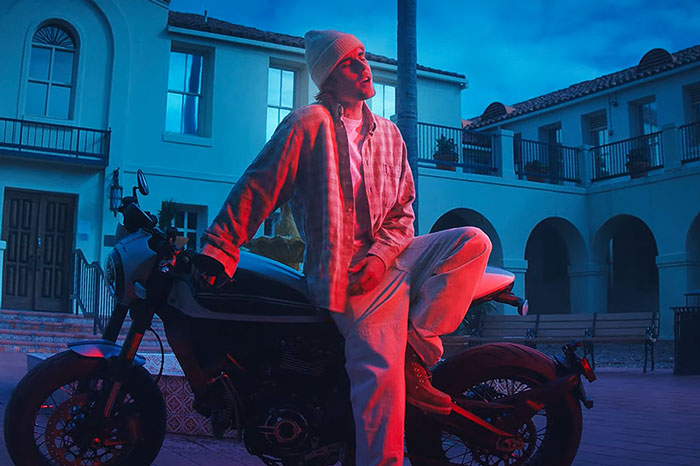 It's time to finally get to know Canadian pop sensation Justin Bieber. At least, know him a little bit more than we did before. Justin Bieber has been in the news, on the radio, and in our minds for over a decade now. In all that time, the singer has been in controversy, has recived many awards, and has made a lot of money. But what are some facts about the artist's life and career? Here are 10 facts about the musical hitmaker.
Pop File: Justin Drew Bieber
Birthday: March 1, 1994
Birth place: London, Ontario, Canada
Zodiac Sign: Pisces
Eye Color: Brown
Height: 5ft 9in
Body Type: Slim & Toned
1. Random Favorites
First, let's start with some random facts. Specifically, let's talk about some favorites of the singer. From his favorite food as a kid to his favorite animal. Find out that and more down below.
His favorite animal is a giraffe.
His favorite sandwich is a tomato and mayonnaise. Though, Beiber's favorite breakfast as a child was Berry Captain Crunch.
Two of Justin Bieber's favorite films The Notebook and The Lion King.
One of Justin Bieber's favorite colors is Purple. You've probably seen the color a lot in his music videos.
Two of Bieber's favorite fruits are bananas and grapes
2. Random Dislikes
Now, here are some things Justin Bieber does NOT like.
Justin Bieber is not a fan of elevators because he gets claustrophobic. While he has gotten better with this over the years, he's still not a fan.
Bieber is NOT a fan of clowns. Enough said.
https://www.instagram.com/p/CMXv1DFHRol/
Related: 12 Facts About 'Teen Wolf' And OnlyFans Star Tyler Posey
3. YouTube Origins
But how did Justin Bieber get discovered? Well, you've probably heard the story by now. But in case you haven't, it's a pretty classic tale by now. YouTube.
At the age of 12, Bieber was committed to becoming a professional singer. He had finished second in a local singing competition and was singing in YouTube videos. It's through YouTube that he was discovered by manager Scooter Braun (who also manages Ariana Grande). From there, Justin Timberlake and Usher fought to sign Bieber to their labels. Usher ultimately won.
One other fun fact is that Bieber was so used to YouTube that he found his early backup dancers through the site.
4. He's Very Religious
While Justin Bieber is remembered for his chaotic teenage years, not many recognize the fact that the singer is very religious. After all, he is a member of the international evangelical megachurch Hillsong. But where did Bieber get his religious background? His mother, Pattie Mallette. And, in fact, that religious tendency almost sank Bieber's career.
When Justin Bieber got signed by Scooter Braun, his mother was against the idea because Braun was Jewish. As she later told the New York Times, she remembers praying, "God, I gave him to you. You could send me a Christian man, a Christian label! … You don't want this Jewish kid to be Justin's man, do you?"
But after praying on it and talking to church elders, Mallette came around to the idea and gave her approval to record demo tapes with Braun.
https://www.youtube.com/watch?v=prb5JlSU1UU&feature=emb_title
5. He Speaks French
One fun fact about Justin Bieber is the fact that he speaks French fluently. This makes sense seeing as he's from Canada where French is the second language. But hey, it's still a fun fact!
6. Clothing Line
As with many other artists, like Ryan Reynolds, it's a good idea to diversify your income. With his fame, it was easy for Justin Bieber to do just that. Bieber owns a clothing line called Drew House, which is named after his middle name. The clothing line sells a range of merchandise including shorts, a hoodie, t-shirts, and more. Some of the clothes come with the word drew and/or a smiley face that matches the logo.
https://www.instagram.com/p/BtO0T8SFKVD/?utm_source=ig_embed
7. Networth?
But how much is Justin Bieber actually worth? Well, between his performances, his private party performances where he costs more than $10,000, his business, and more, Justin Bieber is worth an estimated $285 Million.
8. He's Married
But is Justin Bieber dating anyone? Yes, and, in fact, he's married! After having a scandalous dating life in his teens and early-twenties, Justin Bieber secretly married Hailey Beiber in 2018. The two then confirmed their secret marriage in November 2018. Then in 2019, Justin posted a tribute to his wife, thanking her for helping him through "personal difficulties." The two then had a second wedding ceremony on September 30, 2019. Many also say that Bieber's recent album, Justice, is a major love letter to his wife. The album is full of love songs like "Hold On" and "Deserve You."
https://www.instagram.com/p/CMcxICLHb_5/
Related: 7 Facts About 'Hamilton' Star Anthony Ramos
9. His Hair
One other thing that people think of when they think of Justin Bieber is his hair. His childhood bowl-cut became the teenage boy equivalent of the '90s "Rachel haircut." Bieber's hair was so hotly coveted that the singer once cut it and raised $40,000 for charity by auctioning off the pieces. And nowadays, Bieber says cutting his hair typically costs him $750.
10. He Had Lyme Disease
One final piece of news and facts about Justin Bieber is the fact that he announced a battle with Lyme Disease last year. As she shared on Instagram:
"While a lot of people kept saying Justin Bieber looks like s***, on meth etc. they failed to realize I've been recently diagnosed with Lyme disease, not only that but had a serious case of chronic mono which affected my, skin, brain function, energy, and overall health."
Bieber also wrote, "These things will be explained further in a docu series I'm putting on YouTube shortly. You can learn all that I've been battling and OVERCOMING!! It's been a rough couple years but getting the right treatment that will help treat this so far incurable disease and I will be back and better than ever."