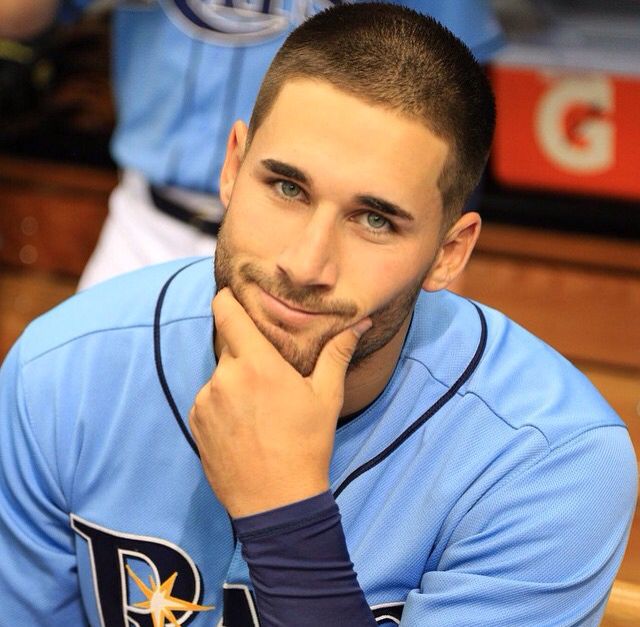 Kevin Kiermaier Facts
Kevin Kiermaier is one of those gifted baseball players that people love to watch. But what do you really know about him, beyond his skills as a center fielder? For example, where is he from and what's his background?
Because we love sports here at MV and researching the backgrounds of people who are in the public eye, we thought it might be kind of fun to publish this article on Mr. Kiermaier.
If you aren't familiar with Kevin, he's a Major League Baseball player with the Tampa Bay Rays. With crystal blue eyes and a smile that never stops, the guy is hard to miss.
What follows are 7 quick facts about Kevin Kiermaier that might surprise you. We've tossed in some pictures as part of this post to help provide context. And for good measure, we've also tossed in a video.
Are you ready to learn more about Kevin? Let's jump right in!
Pop File: Kevin Kiermaier
Birthday: April 22, 1990, Ft. Wayne, IN
Height: 6'1
Zodiac Sign: Taurus Male Bull
Body Type: Athletic
Eye Color: Deep Blue
1. Supportive of LGBTQ Community
Many followers of Kiermaier likely know that this player is a supporter of the LGBTQ community.
In the immediate aftermath of the horrible events that happened in Orlando at Pulse night club, Kiermaier and his team of Tampa Rays honored victims and their families by wearing "We are Orlando" shirts, replete with Pride colors.
2. Originally from the Midwest
Kevin is from the Midwest and was born and raised in the mid-sized town of Ft. Wayne, Indiana. He attended Bishop Luers Catholic High School.
Later, he attended college at Parkland College, a 2-year community school in Champaign, Illinois. And he didn't just end up going to Parkland on the fly – he was asked to attend after the head coach saw his playing skills during a game.
Unlike a lot of ballplayers are can be narcissistic, Kevin is very humble. In fact, he's so humble, he didn't even care about how much money he would make as an MLB player – or even if he'd get a sign on bonus.
SB Nation reported the following when Kevin was first contracted with the MLB:
"He didn't care that the call came so much later than expected, nor did he about the amount of signing bonus he would get, all he wanted to do was begin his professional career and show that he could make it."
4. Humble Part II
Just to add to his cuteness factor, Kevin has been spotted driving around Ft. Wayne, IN by a local news outlet driving his parents old Dodge Caravan. How many major league players do this?!
By the way, according to his Twitter account, he's a country music fan. We wonder if he listens to his favorite vocalists while banging around town in his p's car?
5. He almost went into law enforcement
Had Kevin not made baseball his career, he was heavily considering law enforcement.
Everything changed for him when playing a game against Adam's Central in High School. That's when the coach from Parkland scouted him and the rest is history.
6. He's had some injuries
Like many athletes, Kevin has had his fair share of injuries. In May, he fractured two bones in his left hand while trying to catch a fly ball.
In April of 2015, he suffered a head contusion after colliding with another player. At the time of this posting, he's recovered from that injury but has struggled with some new ones.
For example, in 2019, he was on the sidelines due to a neck injury, per a report in the Tampa Bay Times.
Huge shoutout to my son Karter James today for bein tough as nails!! And he is always the cutest lil dude around!! Love this little fella with all my heart! pic.twitter.com/ThZx4rIfRy

— Kevin Kiermaier (@KKiermaier39) June 13, 2019
7. Married with child
A lot of people want to know who Kevin is dating or if this athlete is married. The short answer is – he's taken.
Kevin married his sweetheart Marisa Moralobo in November of 2017 in St. Petersburg, Florida. In 2018, the duo had their first child.
Wrap Up
Kiermaier is a dedicated, focused baseball player that fans really seem to love. Apart from his athletic abilities, people seem to like him for his down to earth nature and ability to connect with others.
Do you have a favorite baseball player? Who is he and what makes you a fan?