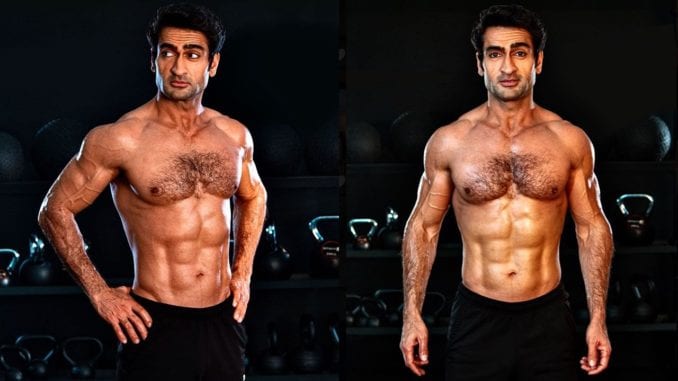 Kumail Nanjiani Talks Body Issues
Kumail Nanjiani is talking more about how his body change has affected his mental health.
At the start of this year, Nanjiani shared the results of his exercise to prepare for appearing in Marvel film The Eternals. At the time, the actor chose to caption the photos with commentary on how his new look was unobtainable without Hollywood money and care.
"I would not have been able to do this if I didn't have a full year with the best trainers and nutritionists paid for by the biggest studio in the world," he shared. "I'm glad I look like this, but I also understand why I never did before. It would have been impossible without these resources and time."
Now, the actor says his new body has led to an unhealthy outlook on himself. The actor shared this fact with Men's Health for their April cover story. He says he didn't know how to process the public's interest in his body after he released the shirtless photos. Nanjiani's wife, Emily Gordon, also talked about her experience through it all.
As she explained, "Half the messages I got that day were from people being like, 'Hey, I want to have sex with your husband.' And the other half were from people making sure I was okay with my husband's naked body being everywhere. . . All I could be was really proud, because he looks amazing."
Meanwhile, Nanjiani was dealing with exterior and interior conflict. While there were many people discussing his body and sharing pictures of it, including PornHub which used his shirtless photo as the image for their "muscular men" category, Najinai was also growing some body dysmorphia.
"I don't want to discount people who genuinely have debilitating body issues," he shared. "I don't have that. But I did start getting some body dysmorphia. I'd look in the mirror and I'd see my abs—and when I looked again, they would fade. I would just see the flaws."
That said, the positive feedback, and all-out obsession, over his body helped Kumail Nanjiani to fight off those negative thoughts.
"When I saw that reaction I was like, 'Okay, I clearly don't see what's actually there,'" he remembered thinking. "It's something that I'm trying to be aware of and be better at, because that's not a good way to be. You want to be easy on yourself."
He then talked about how such negative and ugly thoughts can flourish in Hollywood.
"A few years ago, I was working with a great guy—I won't say who, but he's a very handsome, really in-shape guy—who was making fun of me for being doughy. And I was like, 'I could weight another 50 pounds and I'll still work. But if you gain ten pounds, you'll never work another day in your life."
We appreciate Nanjiani's honesty on this issue and for putting a spotlight on the situation of exercise, body issues, and societal pressure in the world of Hollywood. It takes lots of work and money to get Nanjiani and his body where they are now. But despite arriving there, Nanjiani is trying to stay clear of all the negativity that can follow.
h/t: Men's Health