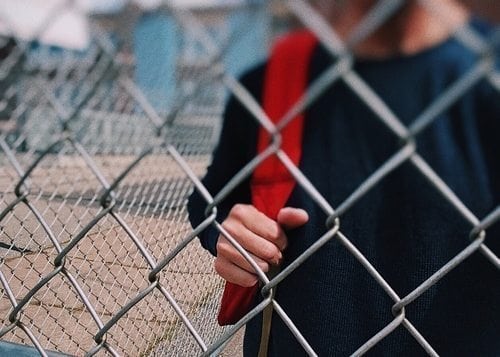 Many states still have these kinds of laws on the books.
If you can believe it, we still have states in this country that restrict or in some cases forbid discussion of LGBTQ issues in schools.
In the state of Utah for example, a so called "no promo homo" law prohibits educators from talking about LGBTQ topics.
In other states, such as Alabama, Louisiana, Oklahoma, Mississippi, South Carolina and Texas, teachers cannot talk about issues pertaining to LGBTQ sexual health.
Related: Teen stabbed to death for being gay
According to Peter Renn, a senior attorney at Lambda legal, many of those laws were passed in the late 80's and early 90's, at a time when AIDS was becoming a public health crisis.
Back then, a stereotypical misconception existed where some thought only gay people could contract and/or spread HIV.
With the hope of removing these types of laws from the books,  advocacy groups such as Equality Utah and the National Center for Lesbian Rights have filed a federal lawsuit.
According to a report appearing on the PBS NewsHour website that looks at the Utah case:
"The suit claims that three school districts in Utah failed to protect the students from harassment or physical abuse at school. And just this week, they asked U.S. District Court Judge Dee Benson for an injunction that would block Utah from enforcing the law while the case is in progress."

The case has the potential to impact similar laws in other states, where various restrictions are in place that limit or block discussion of LGBTQ topics.
More from the PBS story:
"Alabama, Louisiana, Oklahoma, Mississippi, South Carolina and Texas, they pertain specifically to health courses, with most stating that teachers cannot instruct students on LGBTQ sexual health.
In Oklahoma, the law requires that AIDS education include the false claim that 'engaging in homosexual activity' is one of the behaviors "primarily responsible for contact with the AIDS virus.""
In some places, students have joined together to form groups, such as the Gay Straight Alliance. Their purpose is to have safe places to talk about LGBTQ topics in a supportive, non-judgmental way.
Unfortunately, some schools have tried to stop such organizations from forming because of so called "references to human sexuality".
LGBTQ advocates believe the current laws that restrict these topics are harmful to young people because they perpetuate a culture of fear among students that need help.
And it appears they are correct.
According to research released by the Trevor Project, suicide is the second leading cause of death for people between the ages of 10-24.
h/t: PBS NewsHour
—
By: John Hollywood