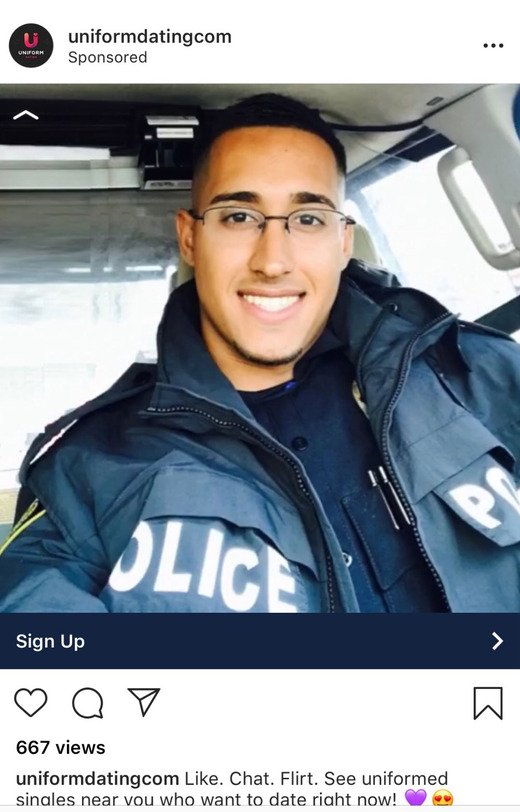 Cop Sues Dating App
What would you do if a dating site used your picture, without your permission, to market itself?
David Guzman, a married man and father, got a big surprise when he discovered his Facebook photo being used to promote a dating site for "men and women in uniform." The photo appears on a social media ad, which was seen by many of Guzman's friends. The ad includes a picture of Guzman but wrongly identifies him as a single man named "Jason." According to what he told NBC, Guzman insists that he never made an account on the site, called Uniformdating.com, and he says they stole the picture from his Facebook page.
The Florida officer, who works for the Golden Beach Police Department in Miami-Dad County, filed a lawsuit in May in the Southern District of Florida. The lawsuit is against NSI Holdings Limited, the British company that owns the site, for taking his picture and using it as an ad that he "never consented to, permitted, assigned, licensed, or otherwise agreed to Defendant's use of his image."
Even worse, Guzman first reached out to the company to get them to take the photo down. He had to prove his identity. But then, the company continued to use his picture anyway.
NSI Holdings' Defense
But NSI Holdings says otherwise. The company says the picture was acquired from a profile on the site. As such, they had permission to use the photo thanks to the Terms and Conditions.
"The facts and evidence available to it indicate that Plaintiff himself — or at the very least, someone who knows Plaintiff's personal identifying information — was the individual who created the profile at issue," they wrote in their August response to the suit.
The company goes further to say that Guzman's image was used by a profile that also used his birth date and personal email address. But could all of this have been a third party's fault? We've seen time and time again that people will take random photos and make accounts with them. But if so, how can you account for the birth date and personal email?
On that stance, the company says it's possible that an enemy of Guzman created the account for whatever reason, but the officer has "presented no facts or evidence that would rebut the presumption that Plaintiff himself created the profile."
Despite all of this, Guzman is still seeking statutory damages, actual and punitive damages, costs, interest, and restitution for the use of his picture by Uniform Dating and NSI Holdings.