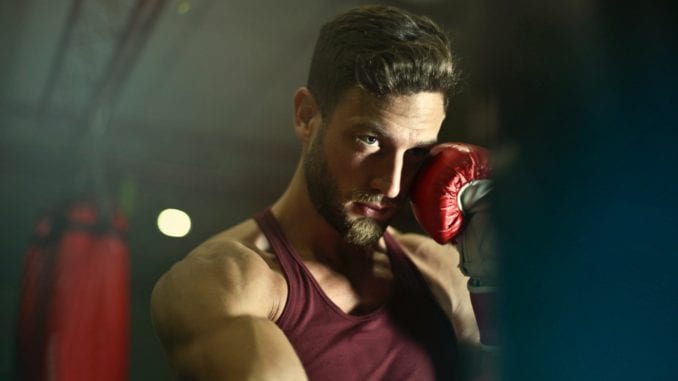 Review of the MMA Boxing Reflex Ball
Training with a reflex ball is a great way to work on your responsiveness and hand-eye coordination in the context of fight sports. It's ideal for guys who like to train in boxing, MMA, kick boxing and other martial arts disciplines.
It's all about focus with a reflex trainer. Even if you've never worked with a speed punching bag, this boxing gear bundle will give you a fantastic cardio workout and teach your body how to put together real combinations.
I picked up the Champs MMA Boxing Reflex Ball for around $20. Here's a link to the Champs MMA Boxing Reflex Ball on Amazon.
Out of the box, all of the equipment was in good condition. There weren't any instructions on how to make the best use of the product. So, I'd recommend doing some research on reflex boxing trainers before diving right in.
The Champs MMA version of the reflex ball trainer comes with an adjustable nylon headband. It somehow manages to find the middle ground between comfort and durability. It doesn't dig into the flesh of your forehead, and it doesn't feel cheap either.
The headband did need to be readjusted several times during my first session. The ball is heavy enough that if you hit very hard, the headband will start to sag just a bit with each rebound. So, you might want to avoid hitting the ball too hard. It's a bit distracting.
There are a few similar products on the market. Some of them come with just a single size ball, but the difficulty level will stay the same. This product has four different size balls. So, you scale down to a smaller ball once your workout gets too easy. The final size is pretty small and it's a challenge to keep your eye on it while punching.
I've tried a similar product at a friend's house and the elastic string broke during my workout. Needless to say, we were both pretty bummed out about it. These reflex ball trainers all have that issue. The elastic cord wear down over time and once it snaps, the whole product is useless.
One thing I liked about the Champs MMA version was that it came with an extra elastic cord. That was an unexpected bonus to find an extra cord when I opened the box. The cord looked durable enough to hold the weight of the ball, too. The first difficulty level ball is about the same size as a tennis ball and weighs about 3 ounces.
First Workout Sessions and Impressions
For the first couple of sessions with the reflex ball, it's easier to just do straight punches. I used the largest size and punched in counts of four. At first, I struggled to make contact with four straight punches. It was challenging to get them all to line up, and I definitely could feel a cardio workout building up.
Related: The Core Workout for Men Made Simple
Once I got four straight punches landed in a row, then I worked on building up my speed. As soon as I broke the old rhythm and started going for more speed, the exercise became challenging all over again. I changed up the routine a bit here and tried to keep making contact with the ball for about 30 seconds.
Next, I worked on bouncing around on the balls of my feet like I normally do when boxing. This subtle tweak made hitting the ball challenging once again. This was great because that meant there were going to be countless new levels and achievements.
So, I started bouncing around in my stance and moving front to back and also to the sides. It felt great to make contact with the ball as I moved. Then, I tried to increase the power of my strikes and found that everything went back to the beginning. The harder you hit the ball, the harder it will become to track with on the next rebound.
I flinched instinctively a few times, but I realized that I could use this to work on my blocking. So, I hit the ball with four straight punches. Then, I hit it hard. The ball rebounded back really quickly and I put up my guard to block it from hitting me.
You have to really put up your guard quickly to avoid getting hit by the ball. This exercise pointed out just how slow my guard really was. I struggled to get my forearms in position fast enough to avoid the hit.
What a great learning tool for blocking? But be careful trying this exercise because the ball and cord can hit you in the eyes, mouth or the nose. You might want to wear protective eyewear and a mouth guard just to be on the safe side.
You can work on your head movement with this thing, too. Just punch the ball and then slip it on the way back. Let it go over your shoulder. You can do this repeatedly or work it into your combo. I did an entire session with just this technique and the muscles in my neck were burning after 15 minutes.
Related: What is Muscular Endurance?
I only planned on using the reflex ball for 15 minutes, but it was actually quite fun and engaging. So, I decided to keep going and work on some punch variations. It was much more difficult to throw a hook and an uppercut into the mix.
If you're already used to doing a set routine of punches – say 1,2,1,2,3,6 then you might need to make some adjustments here. I went with left jab, right jab, left hook and took out the right uppercut. To make contact with the ball after that, I needed to cut a 45-degree angle toward the punching side.
That was interesting because I never tried my combo like that before. For the uppercut, I needed to modify the combo again. I did a 1,2,1,2,5. Again, I needed to take out the hook so that I could make contact with the ball again.
Maybe I'll be able to do whatever combo I like with more experience, but it was really challenging to land an uppercut at all. I needed to crouch real low and follow up the uppercut with either a cross or another uppercut.
Without really realizing it, I had already done 30 minutes of continuous exercise with the Champs MMA reflex ball. I still wanted a bit more, so I just started freestyling a bit. I tried to incorporate a variety of punches, head movement, slipping the jab, even some elbow strikes.
I could see how this would become a fixture in my boxing workout routine. Great reflex training. Great cardio. Also, there were some challenges with different combinations that I had never tried before. I don't think you need to be a professional fighter to enjoy the Champs Boxing MMA reflex ball. It's great for beginners.
To see the reflex ball in action and learn basic techniques, check out this video:
The Takeaway
For 20 bucks, I think this reflex boxing trainer is a great buy. It's portable and folds-up nice in a gym bag if you want to take it with you. It has four different sizes so that you can progress through different difficulty levels.
The headband fits me nicely, but if you wear large ball caps, then you might have a sizing issue with that. The headband didn't cut into my forehead, but it did start to slide around as I broke a sweat. Also, the balls momentum started to affect the headband when I hit it harder.
The Champs MMA set comes with an extra elastic cord. That is huge when it comes to reflex ball trainers because they often break down over time. At least with this version you can replace it and get a second life out of this thing.
So, if you're into boxing style workouts or just want to try something different, I'd recommend picking up a Champs MMA Boxing Reflex Ball Trainer.