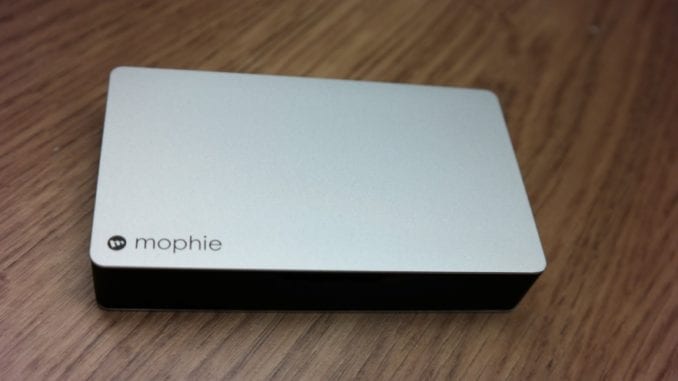 Review of the Mophie Powerstation
Are you thinking of buying a Mophie Powerstation to charge your smart-device? Have you wondered if this powerpack does a good job re-energizing your phone, tablet or other portable devices? Need a review from someone who isn't trying to sell you something?
If the answer is yes, you've come to the right place. Recently, I purchased a Mophie Powerstation just prior to a trip to Puerto Rico.
The reason for buying this gadget was simple – I was worried the electricity would go out during my stay on the island. As a matter of precaution, I decided to pick one up on Amazon.
What follows is a quick review of Mophie with a detailed list of things I liked and dislike. Hopefully, by the end of this post, you will have a good idea of what to expect from this device.
Before diving too deep, I just want to say that I am not being compensated by anyone for writing this piece; not from the manufacturer or from an affiliate program.
I know if I were reading this review, I would want to know if there was a hidden agenda going on. Rest assured, there's not.
OK – moving on.
In my case, I purchased the Mophie 6,000mAh external battery for universal smartphones and tablets in the color "Space Grey".
When it arrived at my home in the box, I initially thought Amazon had sent me the wrong product. That's because the package itself looked like it was big enough to hold a smartphone. It turns out the wrapping just made it appear that way.
In any event, once I removed the Mophie from its container and held it in my hand, it occurred to me the battery pack was heavier than I thought. With dimensions of 2.7 x 0.5 x 4.7 inches, it weighs 5.6 oz.
Intrigued, I placed the charger next to my iPhone 7 to compare sizes. While not the same in length, it came fairly close (iPhone 7 is 5.44 × 2.64 × 0.28 inches).
After doing the geeky measurement comparison, I decided to charge up the device by plugging in the lithium polymer battery into a wall outlet with the attached micro USB cable.
An hour later, I unplugged the Mophie and decided to start charging some of my portable devices. It's all about seeing if the thing works, right?
Here's what I liked:
LED indicator lights (mine are white) lets you know the charge status.
When all four lights go solid, you know the pack is ready to go.
Ability to charge pack from computer or desktop.
Can be charged with iPad wall adapter
Quickly charged my iPhone and Galaxy tablet to "full battery" status within 30 minutes.
Sleek, dummy proof design that is user-friendly.
Highly portable and usable with any USB portable device.
Here's what I didn't like:
Can't connect an iPhone lightning cable from device to a wall outlet.
Somewhat thicker than some of the other chargers on the market.
Grey color looks kind of dull. I should have picked it up in gold.
When charging two devices at once, such as an iPhone and a tablet, the battery starts to run out of power fast.
Is the Mophie worth the money?
So, you are probably wondering if this tech gadget is worth the money? All that I can tell you is I've been very pleased with my purchase since it arrived in my home three months ago.
On a regular basis, I find myself charging various devices, including my Apple Airpods, with this device. It's easy to use and does a good job powering up my gadgets.
I recognize there are other reviews online that suggest Mophie isn't so great and that one can buy better chargers elsewhere. While I certainly respect the opinions of others, I'm just saying that my experience has been positive.
Related: Are Bose QuietComfort II headphones a good deal?
At a national retail price of $39.99, I'd be hard pressed to tell you this product is a rip-off. When I was in Puerto Rico, the power did go out twice for several hours.
Thankfully, the Mophie I had bought was with me. In both situations, I simply plugged in my phone and let the device do its thing.
As a result, I was able to charge up my phone and attend to important issues, like answering emails and responding to texts.
So, there you have it. My review of the Mophie PowerStation. Do you own this gadget? If so, what has been your experience? Please share your thoughts in the comments box below.