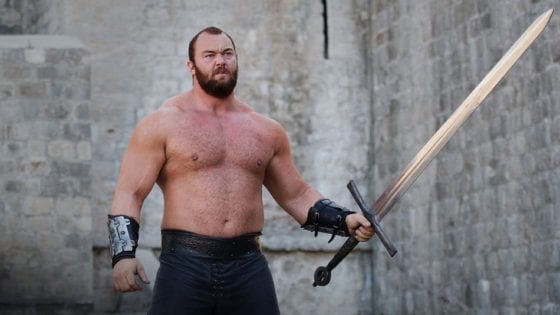 The Mountain Won Europe's Strongest Man
Hafþór Júlíus Björnsson is Europe's strongest man!
The Europe's Strongest Man contest has just finished and Björnsson, who plays the Mountain on Game of Thrones, is the clear winner.
The contest happened in Leeds, England this past Sunday with 12 finalists carrying hundreds of pounds in expert level challenges. According to Men's Health, Björnsson won after doing 10 reps of 770 pounds on the axle deadlift. He also participated in a log lift challenge, a tire flip and anchor drag, an Atlas stone lift, and the Pillars of Hercules challenge. Poland's Mateusz Kieleszkowski and Georgia's Konstantine Janashia then came in second and third respectively.
This is the fifth time that Björnsson has won the title of Europe's Strongest Man. Despite that, he was just as excited as the first four times.
As Björnsson posted on Instagram:
"Europe's Strongest Man for the 5th time! So blessed to have such great people behind me! Team Iceland baby 💪🇮🇸 Huge thank you to all my family, my beautiful wife and all my friends for all the help and support!!"
Related: Check Out Zac Efron's Baywatch Workout Routine
This proves to be an exciting few months ahead for Björnsson. The eighth and final season of Game of Thrones is getting ready to release on April 14. In addition, he has now qualified for the World's Strongest Man competition in June (a contest which he won last year).
For the 6 foot 9 inch giant, this is all the reward of constant effort and exercise. But, he'll have some tough competition once he heads to the international event later this year, according to Bar Bend.
Along with Hafþór Júlíus Björnsson, there are several men to watch like USA's Brian Shaw who can deadlift 903 lbs. Shaw is also a record-breaking winner who qualified for the World's Strongest Man finals for the ninth consecutive year.
In addition, there's Lithuania's Žydrūnas Savickas who has also been to the World event four times. Despite being a "lean" 342 lbs (compared to the other two), Savickas can lift with the others at a height deadlift performance of 901 lbs.
Will the Mountain become the World's Strongest Man again or will one of his competitors take the title? We'll find out in June.
h/t: Men's Health, Bar Bend