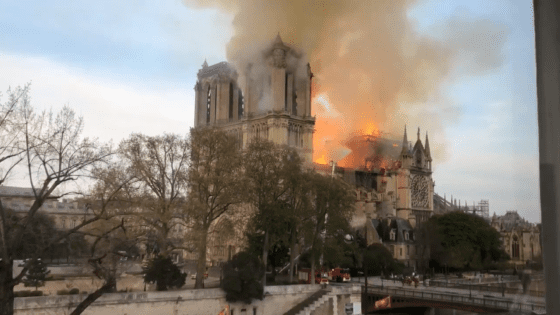 The Notre Dame Cathedral Fire
A historic and cultural landmark went up in flames today.
The world gasped in unison earlier today when news that the roof of Paris' Notre Dame Cathedral was on fire. Within hours of the news, spokesman Andre Finot said, "nothing will remain from the frame." Then, the church's spire fell into the building after being engulfed in fire.
Tweets About The Fire
As per usual, internet users had much to say about the event. Most shared words of shock and despair at the architectural, religious, and cultural loss.
Notre Dame Cathedral in Paris is on fire. pic.twitter.com/DG1U8FKQov

— Caleb Hull (@CalebJHull) April 15, 2019
Appalling News from #Paris Would seen to be a MAJOR fire at #NotreDame Cathedral. so sad pic.twitter.com/fBOBsZ9n4I

— Fraser Rush (@fraser_rush) April 15, 2019
https://twitter.com/leistomania93/status/1117838367729704960?ref_src=twsrc%5Etfw%7Ctwcamp%5Etweetembed%7Ctwterm%5E1117838367729704960&ref_url=http%3A%2F%2Fwww.towleroad.com%2F2019%2F04%2Fnotre-dame-cathedral-in-paris-is-on-fire-video%2F
— Liam Taylor (@LiamMTaylor) April 15, 2019
Famed Paris cathedral Notre Dame is on fire pic.twitter.com/Vv7lwGuxWZ

— Matkal Netsah (@MatkalN) April 15, 2019
The roof is now gone. pic.twitter.com/YVvRaOVPXz

— Shiv Malik (@shivmalik) April 15, 2019
History and Art
The Notre Dame Cathedral is about 856 years old. Its, now former, frame and outline was a landmark for the city of Paris. Many tourists and religious pilgrims visited the church during their trips to France. Some came to France specificaly for the church.
The building is also the inspiration and host of several pieces of art. The church is the location for Victor Hugo's novel "The Hunchback of Notre Dame." That novel then inspired several notable movies. In addition, the building was the home of a variety of artwork, many of which are currently the focus of rescue efforts.
Thankfully, a spokesperson for Notre Dame says that the "treasure" of the building has not yet been harmed by the flames.
Related: Being Gay Was Completely Cool With Nordic Vikings
So far, no one knows what was the cause of the fire. While fielding through claims of terrorism, reporters believe the cause may have been renovations.
The Notre Dame Cathedral was currently going through 7 million dollars' worth of exterior renovations. Phillippe Villeneuve, the architect in chief of historic monuments in France, told Time Magazine in 2017 that "we need to replace the ruined stones. We need to replace the joints with traditional materials."
The part of the building that caught fire were surrounded by scaffolding. The fire then burned for hours, despite hundreds of firefighters working to put out the flames.
City prosecutors are opening an investigation into the fire, which early reports say was accidental. We'll keep you updated as the investigation processes.